"All Shook Up" Takes Home Awards
Hang on for a minute...we're trying to find some more stories you might like.
Benet Academy's performance of "All Shook Up" found itself once again an item of praise this summer. Already a favorite amongst the Redwings for its bold dance numbers and jukebox tunes, the Illinois High School Musical Theater Awards nominated the performance for five awards: Best Production of a musical performance, Best Direction for Ms. Lauren Condon and Mr. Brian Wand, Best Actress for Madeleine Barbeau '18, and Best Actor for Frank Gomulka '18 and Justin Smusz '17.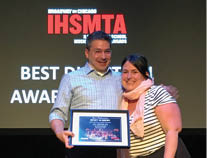 The three nominees joined 24 other finalists at the Broadway Playhouse at Water Tower Place where they performed a group number from the Cadillac Palace's current hit "Aladdin, " and individually auditioned for a panel of judges. At the end of the evening, Benet Academy's Ms. Condon and Mr. Wand took home the Best Direction, and Justin Smusz won Best Actor.
With this award Smusz was given the opportunity of a lifetime: an all-expenses paid trip to New York City that introduced him to Broadway casting agents, stars, and directors that culminated into the National High School Musical Theater Awards also known as the Jimmy Awards.
Throughout his weeklong experience, Smusz had the opportunity to meet many talented people in the business. He said, "Andrea Burns was my private acting coach. She originated Daniella in the Broadway production of "In The Heights", music written by Lin Manuel Miranda. Our director Van Kaplan and choreographer Kiesha Lalama were so inspiring in the way they believed in us, no matter our age. They treated and rehearsed us like true professionals!"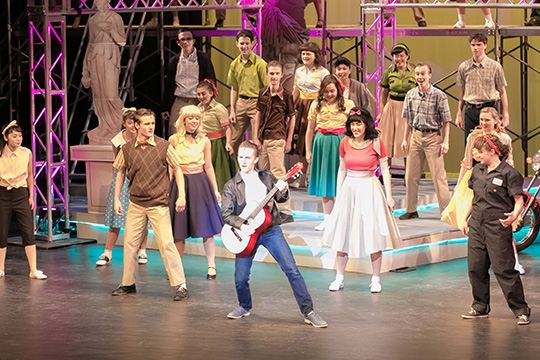 Smusz was also given the opportunity to perform on Broadway at the Minskoff Theatre. With his fellow best actors and actresses, they performed big numbers, small medley groups, and private sessions. He said, "It was such a cool experience to be around such talented individuals of the same age range. There was no doubt in my mind that all of the other 73 nominees would be performing on broadway in the future. It was also so cool to think about how these people will be the people I most likely work with in the future if all of our careers go well!"
As Smusz begins his first semester at Indiana University for Musical Theater, the Benet community is extremely proud of his accomplishments. Barbeau captures the sentiment that we share when she said, " I'm so incredibly proud of him…I was lucky to get to watch him grow as a performer and experience how his love of music theatre has developed and grown stronger every year…The fact that he was able to convincingly portray Chad as a three-dimensional character proved just how smart an actor Justin is… I'm definitely going to miss him this year, but I can't wait to see where life takes him!"