The Arts in Quarantine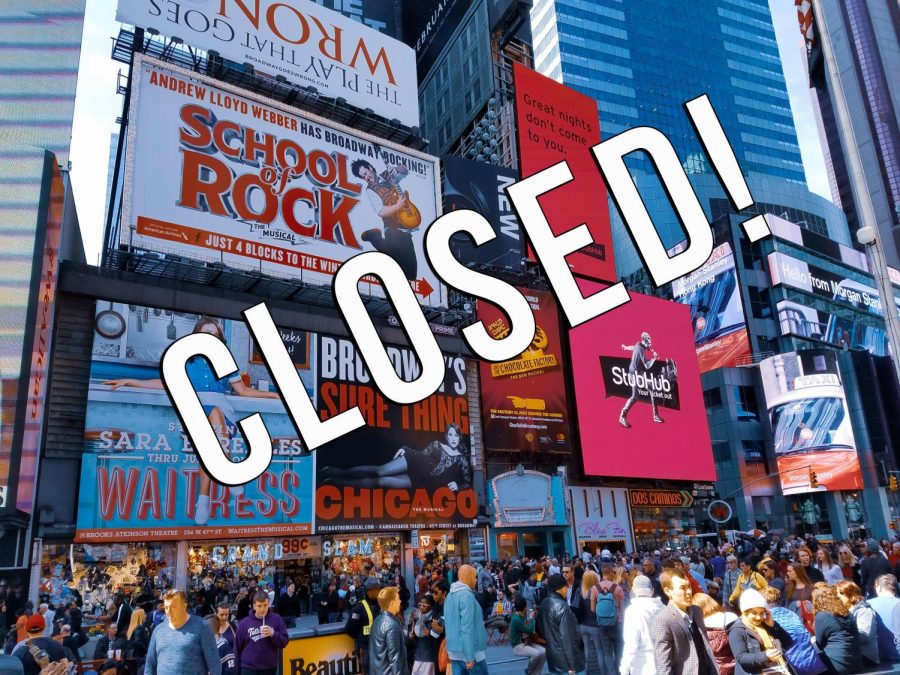 As people in Illinois have been following the shelter-in-place order for over a month now, many radical changes have taken place in peoples' lives. Many have lost their jobs, had a family member get sick, or have had their mental health plummeted. This is not only the case in Illinois, but across the country for many due to the coronavirus pandemic. Some still have jobs, but are unable to perform them in their usual capacity. This is the case for the professional theatre community. With productions, professional and amateur alike, being shut down due to Covid-19, many peoples' jobs are "on hold" until they can meet again. For some, though, they might never get to perform the roles they've worked to perfect ever again.
Broadway, arguably the most famous theatre community in the United States, if not the world, officially shutdown on March 12. Originally, this lockdown was only supposed to last one month. As more shelter-in-place orders were extended, Broadway also extended its lockdown, this time until June 7. A month-long shutdown already had led to the closing of some shows and the postponement of others. With this extension comes the closing of Beetlejuice, which has recently obtained massive popularity due to its presence on Tik Tok. Many people who performed in a show on March 11, looking forward to opening their show on Broadway, continuing performances, or making the show as outstanding as possible leading up to its closing, performed for the last time without knowing it.
This shutdown greatly affects Broadway performers, whether their show will perform again following the lockdown or not. Effectively, the performers, pit, crew, directors, etc., are unemployed for an unknown amount of time. Their awards ceremony for the year, The Tony's, is indefinitely postponed. People are unable to celebrate their accomplishments, and, as it is also unlikely they'd be able to find a job elsewhere, professionals in the theatre community have needed to find other ways to make money. According to the New York Times, "most unionized employees will be paid for the week that was cut short by the shutdown, and the following two weeks." While employees might have received a small salary cut, they also would receive benefits for those two and a half weeks, and health benefits until April 12. With the extension of the shutdown, a new employee relief plan will have to be devised.
In the meantime, actors and actresses are finding ways to earn money. For instance, Stars in the House, hosted by Seth Rudetsky and James Wesley, has found new ways to connect others. Featuring the casts of different musicals and shows with music, such as Glee and Caroline or Change, people around the world can tune into YouTube live streams to see their favorite artists. There is an optional donation benefitting The Actors Fund. Playbill is also adding a new "Playbill Playback" feature, uploading a popular musical to their website that can be purchased for a small fee. The proceeds from this also benefits The Actors Fund, and there is also another additional option for donation. These new programs help actors still receive some money, even when they can't be working.
Although these solutions are nothing close to what live theatre truly is, they are the best that can be done right now. The pandemic is devastating and frustrating for all kinds of professions, but the entertainment industry is being hit especially hard. For students and professionals across the country, the cancellation of productions is heartbreaking. However, thankfully, people still can use the resources around them to make the most of a difficult situation.