A 'Wonder'-ful Parade
Hang on for a minute...we're trying to find some more stories you might like.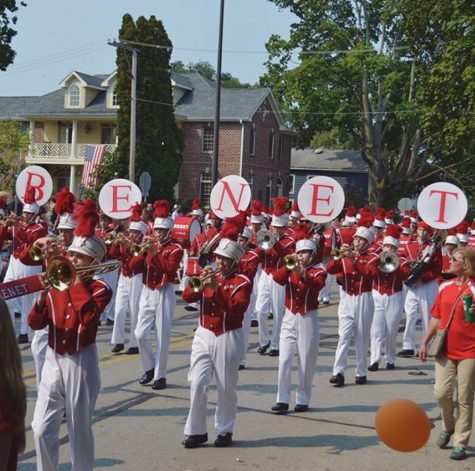 On September 4, 2017, the sun was shining, birds were singing, and people were, surprisingly, not fainting. The Benet Academy marching band and color guard were marching, playing, and twirling through the Naperville Labor Day Parade. For students dressed up in their uniforms, like senior Adrienne Tan and junior Adeline Collins, the parade was a little bit different than last year. Compared to this year's mild weather, last year was unbearable with heat soaring over eighty degrees and humidity soaking through thick uniforms. According to Tan, no one fainted this year, which is "a good thing."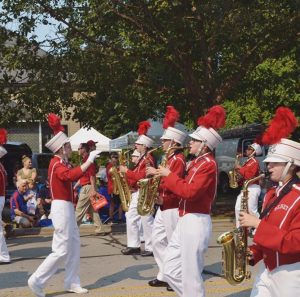 Tan said that the parade was "a unique performance in that we come very close to our audience while we're performing–most [of our] other performance settings are nothing like that." Not to mention, the support for Benet band and color guard is thunderous.
Freshmen Bridget Collins and Jake Dourdourekas had a phenomenal experience. Collins said, "Marching in a parade for the first time was tiring, but fun to see people enjoying our music."
Contrarily, Dourdourekas remarked, "I was sweaty, and I felt like I was going deaf from the sound of the drums in my ears. I was also joyful because I heard hundreds of families cheering and having a good time."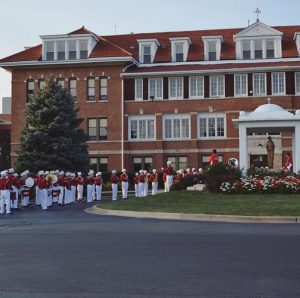 When it comes to performing in a parade, emotions run high for more than the freshmen. Tan, who participated in her last Labor Day Parade with Benet Academy, said, "When you're going, it feels like an eternity of marching, spinning, playing, and sneaking in a gulp of water whenever you can, but at the end, of course you're left with a sense of pride. It's finally over, but it's over. It's sad."
Albeit emotional for both new freshmen and leaving seniors, there are fun components to the parade as well, like the music. This year the marching band played an arrangement of Sir Duke by Stevie Wonder, which, ironically, includes the lyric "There's no way the band can lose." Upon being asked about it, Tan stated, "Our parade music tends to be the most popular music we play all year! We try to play fun pieces that a lot of people are familiar with and enjoy." In prior years the band has featured musical themes such as scores from the movie Incredibles, and a Disney medley including the theme song for the Mickey Mouse Club.
Though the parade is a bit of a mixed-emotions event, with participants displaying all kinds of reactions while marching, when students are done with it, all they feel is pride. The Labor Day Parade is a staple for Benet Academy band and color guard, and with it, "There's no way the band can lose!"