Looking Back on Girls Volleyball 2017 Season
Hang on for a minute...we're trying to find some more stories you might like.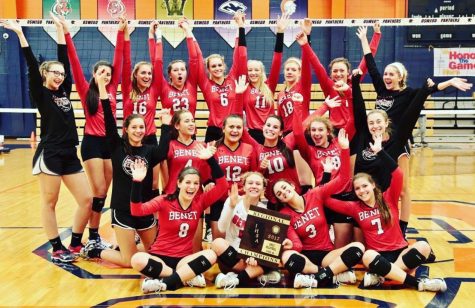 Another successful season is in the books for the Benet girls varsity volleyball team. They suffered heartbreaking defeat to eventual runner-up Minooka in the IHSA sectional championship. The Redwings close out the season with 32 wins and 7 losses, including two tough losses to the state champion Marist Redhawks. The team was able to add to their successful season with a first place finish in the Benet Academy Invite, a second place finish in the Autumn Fest Tournament, a second place finish in the Wheaton Classic, and a regional championship. Although the season may not have finished the way many had hoped, this team has much to be proud of.
The Redwings will be without five graduating seniors next season, three of which have already signed to play volleyball in college. Taylor Van Eekeren will be playing at the University of West Florida. Claire Byrne will be playing at Washington University in Saint Louis. Lilly Johnson will be playing at Bradley University in Peoria. These three seniors were a big part of the Redwings' success this season and will be well missed next year.