'Tis the Season for Girls Basketball
Hang on for a minute...we're trying to find some more stories you might like.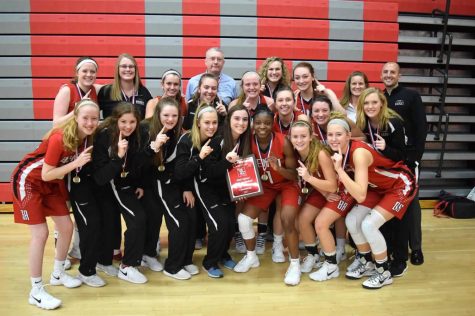 It's officially that time of the year again (no, not Christmas)! Benet girls basketball has returned, and the team is looking better than ever. Head coach, Joe Kilbride, says that his team consists of many underclassmen. However, with a little training, they will be ready to take on any competition.
The young team consists of five starters, two of which are sophomores. The starters are: Tsimba Malonga (guard), Brooke Schramek (forward), Clara Prasse (point guard), Kendall Holmes (guard), and Lauren Stack (forward). During the season, the girls will face tough competition, including teams such as: Naperville Central, Fenwick, St. Joe's, and Fremd.
According to Coach Kilbride, "The team shows great potential at beating any team that comes their way." Although 7 out of the 17 players on the team are underclassmen, Mr. Kilbride believes that they are talented enough to compete with any team and make it to state yet again.