Growing and Renovating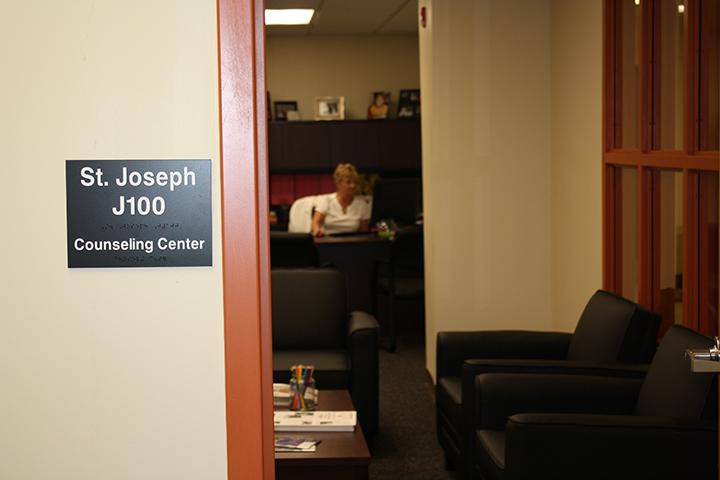 All within the community know that Benet Academy is an ambitious place, and we now realize that this is also true for our renovation staff. The maintenance crew accomplished so much in two and a half months' time. Benet is proud to continue developing into a place where everyone works and prays in a comfortable environment.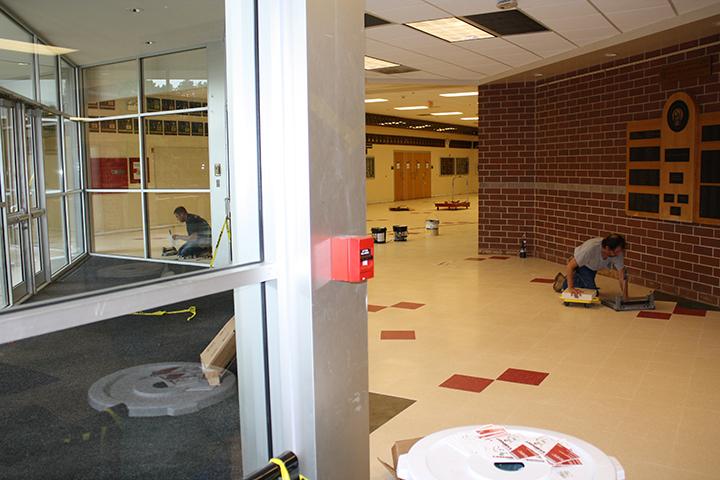 Director of Building and Grounds, Mr. Ken Gushurst, also served as the General Contractor for the many renovations this summer. The first renovation consisted of removing and retiling the floor of St. Ronald lobby, hallway, locker rooms and the Athletic Director's office. Next, the six baskets and backboards in alumni gym were replaced.
On the main floor of St. Martin hall, the Student Government office (former Dean's office) was re-purposed into Mrs. Ashley Alcorn's new classroom. Down the corridor just a bit into St. Joseph hall, a new counseling center was created to accommodate 6 offices and a college counseling suite with plenty of room to work while waiting comfortably. Over the years the area has held a study hall, Mr. John O'Donnell's religion class and an engineering draft space. Also, it formally housed the Mothers Club closets, the bookstore, the Spirt Store, the Recruitment office and a senior lounge. St. Joseph's lobby entrance was enlarged in order to include Benedictine icons of Christ the Teacher, St. Benedict, and St. Scholastica. With Mrs. Alcorn switching rooms, her classroom was turned into a big, beautiful Welcome and Recruitment office for prospective families. Finally, the stage floor in St. Daniel auditorium was replaced and painted.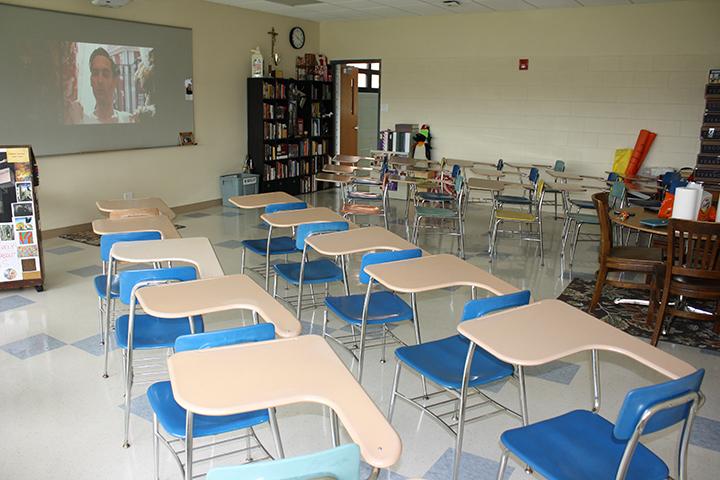 In addition to these renovations, Frank Gomulka '18 created new signs for the school to help direct new students, parents and guests around campus. Gomulka's project earned him Eagle Scout merit.
Much "ora and labora" went into making this school year as great as possible. However, this is not the end of change at Benet Academy. Our principal, Mr. Stephen Marth, commented on the hard work accomplished this summer and additional work to be done in the future: "We were putting on the finishing touches even as classes commenced, but I feel confident that when everything is finished Benet students will have yet another reason to take pride in their school. Moreover, they will soon discover how their educational experiences here at Benet have been enhanced significantly by what are the beginning stages of our Building + Inspiring + Leading Strategic Initiative, which provides a bold vision for Benet from now through 2020."
Benet continues to grow and change and with it bringing the best educational environment for teachers and students alike.