A Great Day To Be a Redwing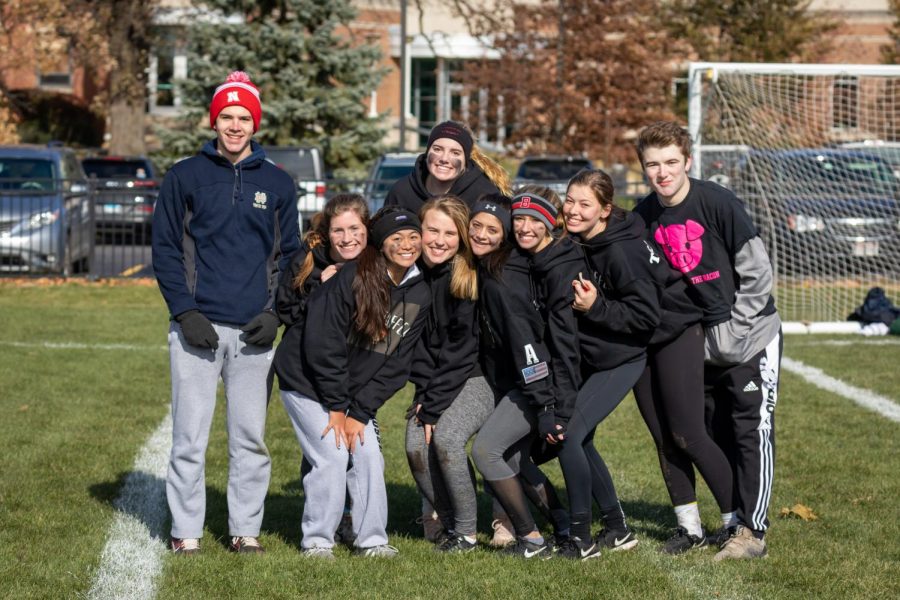 The Student Government's annual Turkey Bowl event kicked off this fall with a great start. The flag football tournament consists of teams with eight to ten players per team. The cost is $40 per team for a fun activity to participate in with your friends on a day off of school. The players then choose a team name and may choose to design team t-shirts or sweatshirts. It is always fun to see the creative ideas the students have for their team names and shirt designs.  
This year's Turkey Bowl was played in single elimination style. Teams had to win to advance, and there was no guarantee of playing more than one game. The change was needed this year because the boys soccer team's semifinal state match was scheduled for the afternoon. With the chance to win state pending, adjusting Turkey Bowl was an effort to ensure students would have the afternoon free to support the soccer team. The adjustment by the Student Government was worth it because the boys ended up winning the state championship.
This year's Turkey Bowl started with the junior varsity teams (the underclassmen) kicking off at 9:00 a.m. Teachers and members of the Student Government served as the official referees. Compared to last year's snow and slush, the weather this year was on everyone's side!  It was a bit brisk but the fields were free of slippery area, and that made injuries less likely.  
Turkey Bowl paused at 10:15 a.m. as players joined other students to line the Benet main drive to cheer and wave as the boys and girls cross country teams left campus for their state meets in Peoria.  This was a great idea as later that weekend, the girls cross country team did win their first state championship in school history. The tournament resumed at 10:30 a.m. with the varsity teams (the upperclassmen) taking to the field.  
The popular annual event provides a great opportunity for students to have fun and strengthen friendships while playing together on teams. Senior Erin Spahn, who was on the winning varsity team, said after the tournament, "Turkey Bowl was a super good time being able to compete and have fun with some of my best friends. I love this Benet tradition!"  Overall, the event was a success, and the weekend was a huge celebration for Benet since two teams brought home state championships. Constantly on the road to victory, it really is, "Always a great day to be a Redwing!"