Mr. Redwing Recap: And the winner is…Quinn Harrold
Ryan Flynn '19, School News Head Writer
April 29, 2019
Hang on for a minute...we're trying to find some more stories you might like.
The Mr. Redwing Pageant is an annual competition for male members of the senior class comprised of three components: the talent competition, the swimsuit competition, and the dating scenario competition. The contestants are judged by a panel of teachers and students.  This year's teacher judges were Mr. Marty Gaughan, Señor Ramon Marth, and Ms. Rosemary Sterr. At the end of the pageant, only one of the contestants is crowned 'Mr. Redwing' by this committee.
The program began with the audience being treated to a variety of 'talents' in the talent portion of the competition. Greg Comonal played the guitar, Kyle Evans performed his song about Benet (and Mr. Kibs' calves), and Jeff Gaydos performed the song "All Star," finishing with a gong. Jeremy Hernandez and Matt Kickel both danced and lip synced to popular songs, with Hernandez dancing to "Copacabana" and Kickel lip syncing to the song "Umbrella." Only Noah Magiguad was brave enough to use his own pipes and belt out "My Way" much to the delight of the woman folk.  Henry Neri then entered and exited the entire stage while walking entirely on his hands. Quinn Harrold opted to perform a stand up routine which garnered many laughs and applause from the crowd. Finally, Nick Hoeppel ate four McDonald's hamburgers in speed-eater fashion and shortly after defeated the Easter Bunny in an intense lightsaber duel.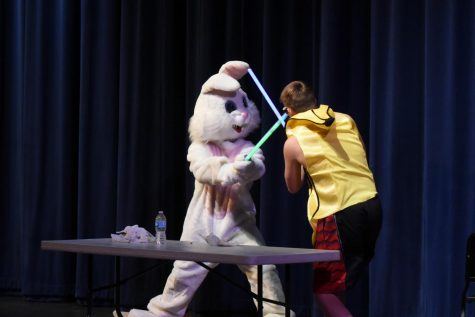 Up next was the swimsuit competition, and while many of the contestants opted for traditional pool wear, there were some exceptions. Hernandez wore a Hawaiian bikini set, complete with a grass skirt and coconut bikini top. Neri went with a much safer pool outfit, opting for a snorkel, trunks, and long flippers. Evans chose a more unorthodox pool set by wearing a T-Rex costume.
Next came the last event before the final vote: the dating scenarios competition. Each contestant was given two questions about how they would treat their girlfriend on a date and where they would go on the date. No contestant failed in this competition as every answer brought laughter and applause. No advantage was gained in this category by any competitor, and the voting truly came down to the talent and swimwear events.
At the end of the pageant, there were three awards given out: Man's Man, Audience's Choice, and Judge's Choice.  The Judge's Choice earned one lucky senior the title of 'Mr. Redwing.' Man's Man, a vote taken among the competitors in order to determine their favorite performer, was given to Gaydos.  In a tie, Comonal and Hoeppel were both given the Audience's Choice award. Judge's Choice, and the title of Mr. Redwing, was then given to Harrold for his fantastic stand uproutine and his great responses in the dating scenarios. Congratulations to Quinn Harrold on winning the 2019 Mr. Redwing Pageant.
Judge's Choice:  Quinn Harrold
Audience's Choice: Greg Comonal & Nick Hoeppel
Man's Man: Jeffrey Gaydos
List of Participants: Greg Comonal, Kyle Evans, Jeffrey Gaydos, Quinn Harrold, Jeremy Hernandez, Nick Hoeppel, Matt Kickel, Noah Maguigad, and Henry Neri.