Former MLB All-Star Mike Sweeney Sets Out to be a Light to Others
Mike Sweeney made a name for himself with his abilities on the baseball field. During his 16-year career, Sweeney made five All-Star appearances and was the team captain of the Kansas City Royals for five years. Now that his playing days are over, he looks to give back to the game of baseball by integrating something else that is also important to him: faith.
Mr. Sweeney is the founder of Mike Sweeney's Catholic Baseball Camp. This camp is a three-day experience in which children ages 8 to 14 partake in baseball instructions from coaches with MLB experience, all while learning more about their faith and growing in their relationship with God.
Although the camp typically takes place in Kansas City, the 2018 session took place at Benet Academy. From Monday, July 23, to Wednesday, July 25, aspiring baseball players from the surrounding areas attended the camp and learned under the tutelage of coaches who were experienced not only in baseball, but in living devout, Catholic lives. Several players on the Redwings' varsity baseball team also helped instruct campers throughout the week.
Each day of the camp began with a Mass starting promptly at 8:10 a.m. After starting practice with a group talk, the campers broke to stretch and prepared for two-hour drills in which the children learned how to improve in several different aspects of baseball. They then took an hour to eat lunch and converse among themselves. The day ended with nearly two hours of games and concluded with a rosary session.
Sweeney says that he became inspired to become more vocal in his faith by seeing how those around him were struggling in life. "Playing major-league baseball for 16 years was a dream come true," he told the Benet Herald. "I thought that, when I made the big leagues, my heart would be filled with joy, and that life would be perfect. What I soon came to find out was that some of the most miserable, unhappy, depressed people in the world were millionaire baseball players who played in the major leagues. It was evident that everything this side of heaven is fleeting and only gives us a temporary happiness."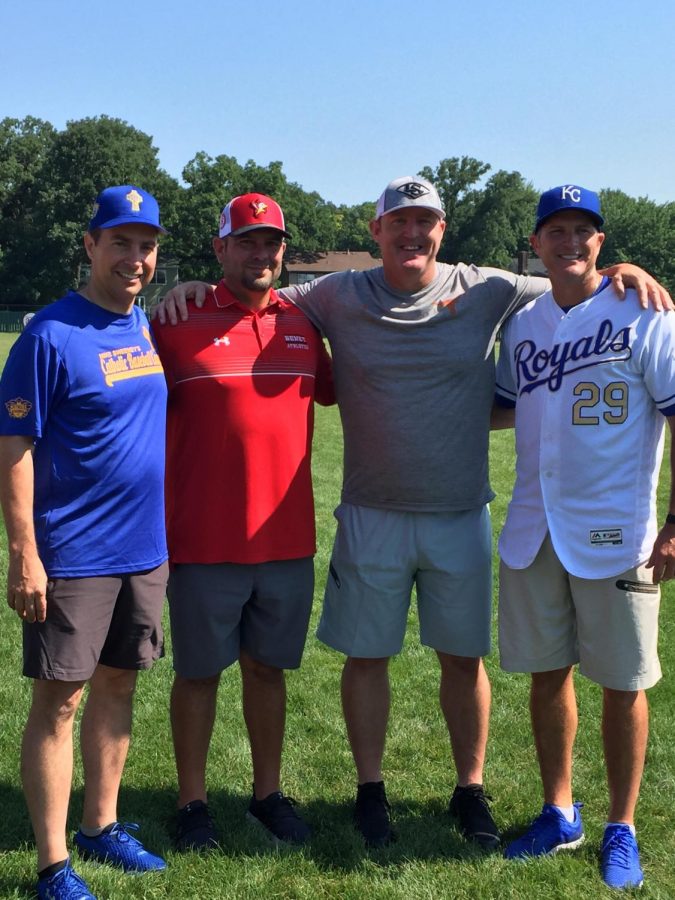 Sweeney would realize that although he enjoyed playing in front of tens of thousands of fans every game and making millions of dollars, he found true joy in his faith. "My Catholic faith gave me everything I needed to have joy," he added. "Whether I was 0-4 with four strikeouts or 5-5 with two home runs, only through my personal relationship with Christ was my heart fulfilled."
Mr. Scott Lawler, the manager of Benet's varsity baseball team, realized that bringing in Sweeney would be able to help children in the local area become better baseball players and better people. "What I wanted to do was to have a camp at Benet [in which] you learn the game of baseball, but at the same time, you have faith intertwined in the camp, and I thought that this was a perfect blend," he explained. "I got to know Mike Sweeney when I worked at Notre Dame, and I know what his camps and his character stand for. I know what Fr. Burke [Masters, the main chaplain of the camp] stands for in the Joliet Diocese. I thought that this would be the perfect blend that matches what our philosophy at Benet and our baseball program is."
Through giving back to his community and helping other enrich their faith lives, Mike Sweeney is a perfect example of using one's gifts to help make the world a better place.
Leave a Comment