Frank Kaminsky Reflects on his High School Days at Jerse Retirement
Hang on for a minute...we're trying to find some more stories you might like.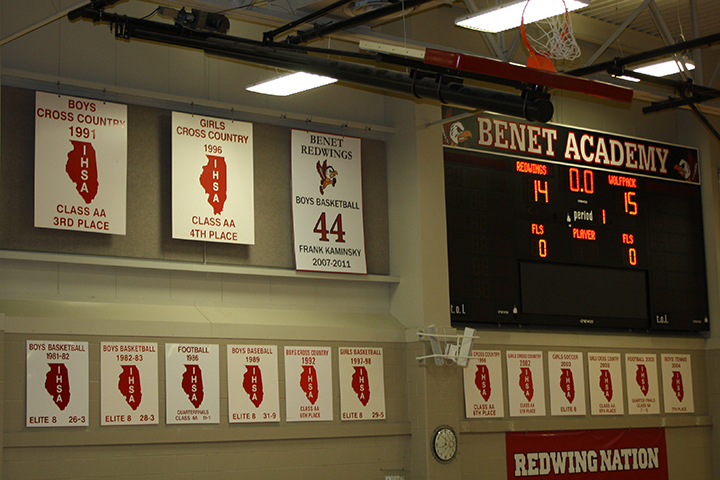 Throughout the years, Benet Academy has garnered a reputation for preparing its students for life beyond high school. Being one of those most academically rigorous schools in Illinois, it works its students hard to get them accustomed to the hardships they will endure in their lifetime. Benet teaches students that, through hard work and dedication, anyone can achieve their goals. Perhaps no one personifies that quite like Benet alum Frank Kaminsky.
Kaminsky, who currently plays for the NBA's Charlotte Hornets, returned to his alma mater Thursday, November 16, as a part of a ceremony honoring his high school basketball career. He looked on as a banner donning his name and number, No. 44, was raised in St. Ronald gymnasium.
Kaminsky was in town to take on his hometown Chicago Bulls at the United Center the day after his ceremony, a game which his Hornets would ultimately lose in a 123-120 nailbiter.
As a part of the hour-long festivities, the Avions performed a dance number in the gym. The varsity basketball team then partook in a friendly scrimmage, splitting up into two teams. The red team and the white team battled it out, with the game seemingly ending in a 12-12 tie after regulation. However, Kaminsky took to the microphone and demanded that the two teams play in overtime. Noah Ferrell hit a game-winning three-pointer to give the white team the victory.
Kaminsky had chosen to root for the white team, even going as far as drawing out plays for them. "I had a gentleman's bet with my friends," he told the media in a press conference after the event. "We each picked a team, and I picked the white team, so I wanted the white team to win."
After the scrimmage, Kaminsky took to the gym floor to a thunderous standing ovation from the crowd. He told them that, initially, he didn't really want to go to Benet. "A lot of people don't know this, but when I was first thinking about where to go for high school, I actually didn't want to come to Benet," he said. He cited that he was concerned that he wouldn't do well academically. In the end, though, his mother persuaded him to come.
Things did not start off well for Kaminsky at Benet. "My freshman year, I set the record for getting kicked out of the most classes, my grades were terrible, and I was ready to [transfer]," he told the crowd. "I wasn't doing well in basketball, my school wasn't going well." He also said that he was not asked to the Turnabout dance in his first two years at Benet. "I'd like to go back to all of those girls who didn't ask me to the dance when I was a freshman and a sophomore and say, 'this is what I'll be later on in life. You can either take it or leave it,'", he joked with reporters. "I bet you that at least one girl in the popular group would've asked me to Turnabout."
Through hard work – and an eight-inch growth spurt – Kaminsky eventually turned things around on the basketball court. He was named first-team All-State by the Chicago Sun-Times in his senior year and committed to Wisconsin on a basketball scholarship. He went on to become a first-team All-American, the winner of the John R. Wooden Award, which is awarded to the best player in college basketball, and the ninth pick in the 2015 NBA Draft.
When asked what he does in return for his school, he told reporters that he always makes sure to let people know that he appreciates his roots. "When I try to explain to people that I'm from Lisle, Illinois, it's not always the easiest thing to explain because a lot of people don't know where it is," he said. "But it's always what I'm going to say. This is my home. This is where I grew up, this is where I was raised, where all my friends are. There is where all of my family is."
He also said that, down the line, he would like to raise a family in the Lisle area. "Eventually, one day, when I'm settled and done, I hope that I can have my family live here and go to this school and experience the same things I did," he explained. "Because I love this area, I love where I'm from, and it means a lot to me. I think that the best way that I can [pay back Benet] is to bring that with me wherever I go and represent it the best I can."
He ended his speech encouraging all of the Benet students in attendance to strive for greatness. "You're going to go out into the world and do different things. Whatever you do, do it at 100 percent," he said. "If you want to be a writer, try to be the best writer. If you want to be a doctor, try to be the best doctor. Whatever you do, in sports or school, just try to be the best at it….it's all up to you to decide what you want to do and what your future's going to be."
There will always be obstacles to overcome in our lives. No matter what we choose to do with our lives, we will always face hardships. Frank Kaminsky is living proof, though, that if we work hard enough, we can conquer them.