A New Year, a New Dean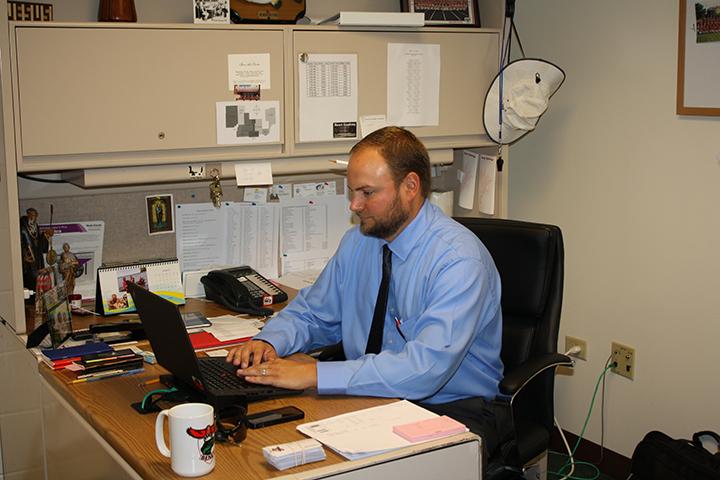 Last June Benet bid a sad farewell to one of the most respected members of the community: Mr. Marty Wiora, the Dean of Students. After his 44 years of service to our school, it was time for him to retire. But a new year has begun and a new dean assumed the role Mr. Wiora had formerly served: Mr. Cabay.
Mr. Cabay grew up in Joliet and attended high school at Joliet Catholic Academy. He graduated in 1998 and proceeded to obtain his bachelor's degree in education and K-12 certification in P.E. at North Central College in Naperville. He began his Benet career in 2002, serving as physical education teacher and later the physical education department chairman, as well as holding multiple committee positions throughout his Benet career. Mr. Cabay has coached football at every level while at Benet, and six years ago, he helped to create the bass fishing team with Mr. Mike Stracco. In 2008, Mr. Cabay completed his Master's Degree in Educational Leadership with a type 75 certification, completing a list of qualifications for the important role he would soon fill.
Mr. Cabay is an extremely well-liked teacher at Benet, with respect from his students and a reputation of not being afraid to crack the whip. He is ideal for the post of dean of students, for when he heard that the position would be open, he was compelled to apply not just by his own want for the job, but by God and St. Benedict. After a two-hour interview in May with Principal Marth, Mr. Cabay was appointed dean later that month. He prepared the entire summer for his new responsibilities and charges. It is an exciting change, and the entire school is ready to see what will happen as Mr. Cabay takes the reigns as co-chief disciplinarian member of the Benet community. Congratulations on your new role.