New School Year Brings in Fresh Faces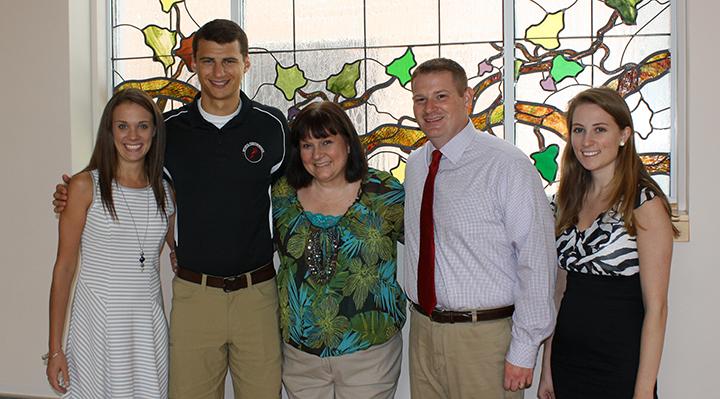 At Benet, faculty and staff are more than just educators. They are mentors, role models and often fellow Redwings. Benet is excited to welcome five new members to our faculty/staff: Kelsey Lauren (Recruitment),  Jeff Steinberg (Physical Education),Carol Grant (Science), Peter Drinan (Math), Letizia Caulfield(Development) , and Rudolf Strahl (German).
Ms. Grant is no stranger to life at a Catholic high school. She attended the all-girl school, Mother of Sorrows. However, prior to this year, Grant taught in public schools. Ms. Grant said it was her history of Catholic education that eventually called her back. She said that she wanted to teach in a Catholic school because they "challenge their students to strive for excellence in all aspects." She is most excited about meeting her new students and sharing her love of science with them.
One aspect that makes Benet so unique is that many of the faculty and staff members are Benet alumni. Mr. Drinan graduated from Benet in 2000, one of five siblings to call Benet their alma mater. He greatly values the tradition and legacy he has been a part of and is thrilled to return once again and pass on his passion to his students, as well as have the opportunity to teach alongside and learn from many of the faculty members who influenced him as a student.
Ms. Kelsey Lauren's path back to Benet was a less conventional one. After graduating in 2008, she began building her resume in the performing arts. Over the past five years, she has been a choreographer at Steps Dance Center in Aurora. While working there, Mr. Brian Wand contacted her to choreograph the spring musical. "Working with the singing, dancing and acting Redwings made me realize that I wanted to be involved with Benet on a day-by-day basis as opposed to just one night a week," Lauren confessed. She is now one of two recruitment associates and the shadow coordinator. She is excited to see the current Benet students show prospective students the fantastic Benet she has grown to know and love over the years.
Physical fitness is an integral part not only to education but also to life. Mr. Jeff Steinberg says he wanted to pursue a career in physical education to help students implement skills that will make their time in high school happier and healthier, as well as learning how to function healthfully as an adult. He wants his students to know that he is very passionate about helping people learn what should be incorporated in order to live a healthy lifestyle, such as physical activity options and proper nutrition.
Mr. Rudolf Strahl most likely knows what teaching at Benet is like better than anyone. Each time he tries to leave Benet, they pull him back in. He taught at Benet from 1968 through 1996. From then until 2008, he taught full time at the College of DuPage until his retirement in 2008. He continued teaching part time at College of DuPage until coming back to Benet in 2011, to teach part time. This year, he is returning to teach German 1. All in all, Mr. Strahl has taught at Benet for over 30 years. Although he did not attend Benet himself, Mr. Strahl's passion for the school is obvious. Most recently, he and his wife Mary, who has also taught at Benet on and off for decades, rode over 2,500 kilometers through Europe for a fundraising activity, with the proceeds to benefit Benet financial aid.
Letizia Caulfield, Class of 2011, returns as Development Associate – Donor Records and Services. Ms. Caulfield earned her undergraduate and master degrees in management from St. Andrews, Scotland. "I am so excited to return to the Benet Community and providing support to a place I love so much."