Benet Girls Tennis Makes History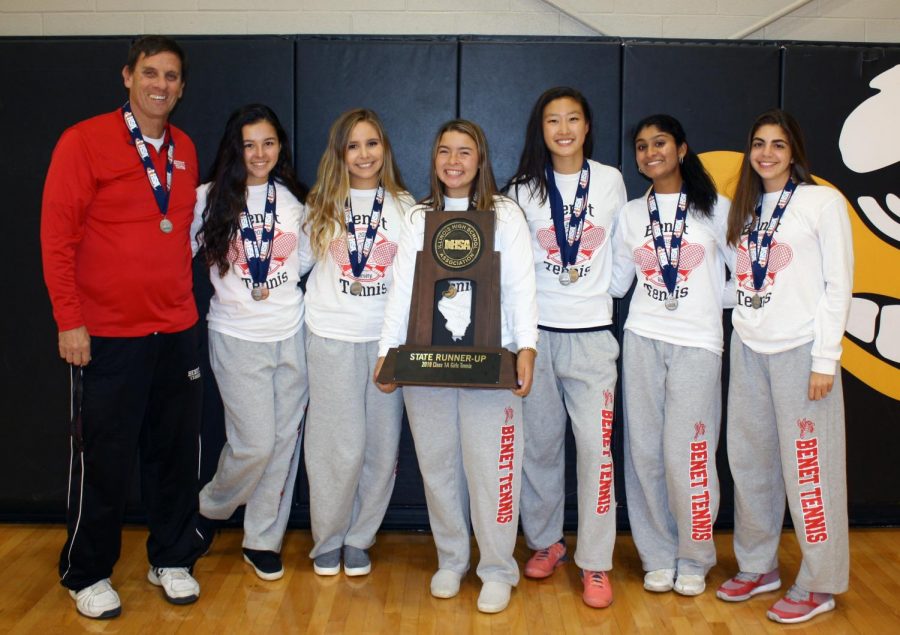 On September 26, 2019, the Benet girls tennis team made history. The team received the Class 1A Runner-Up State title, and for the first time in Benet's history, the first doubles team won the State Championship title. The varsity roster for state included the State Champion doubles team, senior Kendall Schrader and sophomore Kaitlyn Lee, as well as junior singles player, Daniella Nenadovich, who placed 6th. Also competing was the doubles team of seniors Angela Matthew and Rachel Zilligen, who made it to the third round of the state tournament, and singles player senior Caroline Austgen who advanced to the second round of the tournament. 
Prior to competing at State, these six girls won first and second place for both doubles and singles in the Sectionals Tournament for the first time in history. It was a long road to state, and Coach Mike Hand described one of the biggest obstacles as, "playing to our capabilities, not our opponents." The team was able to pull through and had a very successful season, partly because, according to Nenadovich, "The team this year had a really special bond that contributed to our success during the season, especially at State." Part of this success can also be attributed to "the number of returning players with varsity experience," according to Coach Hand.
Two of these returning players were Kendall Schrader and Kaitlyn Lee, who defeated the University of Chicago Laboratory School in the State Championship in three sets, with a final score of 6-2, 3-6, 6-3. "Kendall and I work well together because her weaknesses and strengths compliment mine. Because we're doubles partners, that's a critical part of working together successfully," Lee said of her partnership with Schrader. The girls led their team to a record breaking season that will definitely be hard to beat. Lee looks forward to "improving my game and working with different players," in her next two seasons. As for the rest of the team, Coach Hand is eager to see what the future holds. "We will miss the seniors, but [we] have a good core of players ready to step in and show what they can do. Hopefully, they see the successes this year's group had and want to match it or surpass it."