A Blast to the Past for Ms. Alcorn's Seniors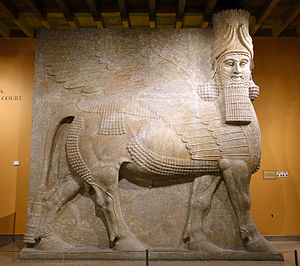 Hang on for a minute...we're trying to find some more stories you might like.
On Saturday, October 20, Ms. Alcorn's two Advanced Humanities classes visited the Oriental Museum. Founded in 1919, the Oriental Museum serves as the University of Chicago's center for Near Eastern Studies and archaeological research. Students are able to bring their curiosity and ingenuity to each exhibit, and the public has access to new discoveries in these fields as they are made. It was very interesting for Ms. Alcorn's seniors to see this type of exploration in the world of ancient art, as the first quarter of Advanced Humanities is spent studying prehistoric Mesopotamian and Egyptian art. The Oriental Museum is a treasure trove of pieces from these time periods, featuring works from Egypt, Nubia, Persia, Mesopotamia, Syria, Anatolia, and the ancient site of Megiddo.
The newest additions to this collection, and perhaps the most exciting, are the Lamassu carvings from the citadel of Sargon II. The Lamassu are ancient Assyrian protective deities who are depicted with a human head, body of a bull or lion, and feathered wings. These enormous statues were recently acquired from their original home in Mosul, Iraq. Iraq has been the battle ground for ISIS in recent years, and terrorists have been targeting historic art and architecture during the conflict. Since the destruction began in 2015, members of the community in Iraq have been carefully collecting, guarding, and relocating these artifacts. The Lamassu are a great of example of the Iraqi community at work, and they now safely rest in Chicago's Oriental Museum. Senior John Semenchuck, who attended this outing, recalled what it felt like to see the Lamassu up close. "They were so huge," he said, "and it was really cool to see something we were studying in real life." Senior Meghan Gibbons said, "They were really intimidating. I can understand now why a king would want these guys guarding his kingdom!" Ms. Alcorn's classes were able to experience in person the material in which they had been studying and make connections to the past through their trip to the Oriental Museum, a remarkable opportunity that is sure to be cherished by all involved.