A Crash Course in 2018 Illinois Elections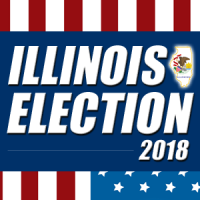 Greta Maras '19, Clubs Editor
November 5, 2018
It is an exciting time to be a democratic participant in the United States republic. For the first time in of our lives, part of the Benet Academy student body has the privilege to exercise the great right to vote for the officials who will govern our state, counties, and cities. Because voting is such a privilege, it's important that those who exercise their right do so responsibly. This article can hopefully answer many of the questions a new voter may have about the process, the people, and the policies that deal with voting as a whole.
Useful voting terminology
R- Republican Party candidate

D- Democratic Party candidate

L- Libertarian Party candidate

C- Conservative Party candidate

Write-in- did not win the nomination from either major political party, so this person is running independently

Incumbent- the current holder of said office

Legislative/Congressional district- the state of Illinois is divided into 18 districts that are proportional based on population. Each district elects one member to the House of Representatives. The districts are geographically divided, and districts can be found  using this website: elections.il.gov. Here are the most common cities and districts for Benet students:

District 3: Western Springs, La Grange, Oak Lawn, Palos Heights

District 5: Elmhurst, Oak Brook, (some of) Hinsdale, La Grange Park

District 6: Wheaton, Glen Ellyn, Downers Grove, Westmont, Clarendon Hills, Lisle, Winfield, West Chicago, St. Charles, (some of) Naperville, (some of) Hinsdale, (some of) Lombard, (some of) Warrenville

District 11: Bolingbrook, Aurora, Woodridge, Darien, Burr Ridge, (some of) Naperville

District 14: Oswego, Batavia, Geneva, (some of) Warrenville, Plainfield
When and where do I vote?
The general election is on the first Tuesday of November, which is November 6, 2018. Voting is open from 6:00 am to 7:00 pm. Early voting is available currently but only at select locations. You can locate your polling place using several sources online. All you need to know is your home address! Go to http://www.vote.org. Midterm elections occur every two years.
What offices are up for election? Whom can I vote for?
For an opportunity to view exactly what you will be looking at when you enter the voting booth, go to http://www.ballotpedia.org and enter your zip code.
What are the issues/positions of the people on the ballot?
DISCLAIMER: In this article, I have described the candidates for state executive offices and the House of Representatives only. The districts and counties have several more positions up for election, including sheriff, circuit court judge, state senator, state representative, and more. Get informed about which candidates are on your ballot precisely using the website above. Every office is significant and deserves to be occupied by someone you genuinely support. Don't let ignorance or lack of information dictate how you vote!
NOTE: For the sake of clarity, length, and relevancy, I have included information on only the official candidates for the Democratic and Republican parties. Libertarian, Conservative, and write-in candidates have been included but not described. Likewise, the descriptions for each candidate are extremely brief and objective. The policies, positions, and issues that are expressed are directly from each candidate's campaign website or an independent source. My job in writing this is not to paint a candidate in any certain light; it is to inform you about what matters most to these potential, or current, public servants. More specific and detailed descriptions of their policies on said issues can be found on the websites for all personnel.
House of Representatives
Legislative District 3
Daniel Lipinski (D, Incumbent since 2005)

Lipinski's issues include public health, jobs and the economy, energy and the environment, and the care of seniors and veterans.

Arthur Jones (R)

Jones is often characterized as a far-right politician given past denials of the Holocaust and other extreme views.  Jones' issues include illegal immigration, repealing the income tax and repealing Obamacare.
     –    Justin Hanson (Write-in)
Kenneth Yorkers (Write-in)
Legislative District 5
Mike Quigley (D, Incumbent since 2009)

Quigley's issues include national security, government reform, women's and LGBTQ rights, sustainable energy, and fostering the economy.

Tom Hanson (R)

Hanson's issues are affordable healthcare, lowering property taxes, the prohibition of medical marijuana, and immigration laws.
Legislative District 6
Peter Roskam (R, Incumbent since 2006)

Roskam's issues include Great Lakes restoration, jobs and the economy, tax reform legislation, foreign affairs, and the opioid crisis.

Sean Casten (D)

Casten's issues include immigration reform, gun safety laws, energy and climate policy, women's and LGBTQ rights, and health care.
Legislative District 11
Bill Foster (D, Incumbent since 2007)

Foster's issues include jobs and the economy, health care, immigration, the opioid crisis, science research, civil rights, and infrastructure.

Nick Stella (R)

Stella's issues include jobs and the economy, education, foreign policy, health care, national security, immigration, and taxes and spending..
Legislative District 14
Randy Hultgren (R, Incumbent since 2009)

Hultgren's issues include honoring veterans, maintaining local control of education, preserving social security and Medicare for seniors, and immigration reform.

Lauren Underwood (D)

Underwood's issues include reducing gun violence, education reform, environment and energy protocol, women's rights, and foreign policy.
Governor
Bruce Rauner (R, Incumbent since 2014)

Rauner is the current governor. Rauner's focuses as governor have included income tax cuts, criminal justice reform, the facilitation of jobs and the economy, the limiting of corruption in Illinois politics, and education.

J.B. Pritzker (D)

Pritzker is a businessman and first-time candidate for political office. Some of Pritzker's focuses on the campaign trail have included expanded healthcare, creation of jobs, early childhood education, support for the disabled, and a commitment to LGBTQ and women's rights.

Grayson Jackson (L)

William McCann (C)
Lieutenant Governor
Evelyn Sanguinetti (R, Incumbent since 2014)

Sanguinetti is the running mate of Rauner. Her issues include the consolidation of local government, the patrolling of commerce between national rivers, rural affairs, and the military in Illinois.

Juliana Stratton (D)

Stratton is a current state representative and the running mate of Pritzker. Her issues include criminal justice reform, women's rights, and childhood education.

Aaron Merreighn (C)

Sanj Mohip (L)
Attorney General
Lisa Madigan, the current Attorney General, is not seeking reelection for this term.

Kwame Raoul (D)

Raoul is a former Illinois state senator. His issues are the minimization of sexual assault and domestic violence, women's rights, affordable healthcare, voting rights, and protecting the environment.

Erika Harold (R)

Harold is a lawyer and first-time candidate for political office. Her issues include criminal justice reform, worker's compensation reform, the opioid crisis, the minimization of sexual harassment, and government accountability.

Bubba Harsy (L)
Secretary of State
Jesse White (D, Incumbent since 1998)

White is the current Secretary of State. His focuses have included combating drunk driving, improving customer service, aiding veterans, promoting organ and tissue donation, and harsher traffic safety laws.

Jason Helland (R)

Helland is a career prosecutor and first-time candidate for political office. His issues include term limits for politicians, improving DMV efficiency, and the elimination of partisanship in the office of Secretary of State.

Steve Dutner (L)
Treasurer
Mike Frerichs (D, Incumbent since 2015)

Frerichs is the current treasurer. His issues include the facilitation of jobs and the economy, college savings programs, supporting farmers, and ethics and transparency in politics.

Jim Dodge (R)

Dodge is a former veteran and private sector executive. His issues include accountability of Illinois politicians, tax reform, state investments, and consolidation of government positions.

Mike Leheney (L)
Comptroller
Susana Mendoza (D, Incumbent since 2016)

Mendoza is the current comptroller. Her priorities include taxpayer transparency, the protection of the elderly and disabled, a new era of technology modernization in the Illinois government, and the strengthening of diversity in the state government.

Darlene Senger (R)

Senger is a businesswoman and former city council member in Naperville. Her issues include consolidating the offices of comptroller and treasurer, saving taxpayer dollars, transparency and reduced costs for the state government, and the end of insider payments.

Claire Ball (L)
How do I decide who to vote for?
It is tough to make so many decisions for your first midterm election. If a single candidate does not stick out to you, begin to think about the issues that matter to you. Are you a big environmentalist? Do you favor a government-mandated healthcare system or independent healthcare providers? Though you may not directly affected by tax reform legislation yet, can you see yourself forming an opinion on it based on where you might be in the future? If you have declared a party alignment based on your positions, that may help in your decisions as well.
It should be noted, however, that in any case, the positions of the candidate should take precedence over their political party. As you get older and more informed on your political positions, you will probably select the candidates whose views are most closely align with yours. You may also begin to consider the common good. Who do you think would benefit the state of Illinois and/or country the most? The more informed you are about the issues and the people you will trust to handle these issues, the more effective you will be as a voter. The information listed above is just the tip of the iceberg- there are so many positions to be fully informed about. Read, listen, and decide on yourself, then choose who will be your representatives.
If you have any more questions, use any of the online resources provided above, or do some research of your own! We are lucky to live in an age of easy access to our representatives, their issues, and their actions. Politics is now more colloquial and attainable than ever – do not let this opportunity go to waste! Take advantage and be in control of your opinions and actions.