Benet Constructs Its Future
Hang on for a minute...we're trying to find some more stories you might like.
A new and improved Benet Academy welcomes back students for the 2018-2019 school year. Each summer while the Benet faculty and students recharge their batteries with a relaxing break, the maintenance department goes into high gear to complete an ambitious list of updates. Many changes were made during summer break, all of which are part of Benet's ongoing plans to update the entire campus and improve the school for future generations of students. While many of these renovations have changed Benet dramatically, both on the inside and outside, it is reassuring to know that the school remains the same in its values and tradition while also looking forward.
The two biggest areas of renovations were made within the halls of St. Joseph and St. Thomas. Thomas hall, often cited by students and faculty as one of the school's areas with the most 'character', received an enormous update with the transformation of four previous classrooms into two new dual Physics labs and classrooms. In addition, the old lockers have been replaced and a newly furnished ceiling now supports an upgraded fire sprinkler system in the hall. In addition to updating St. Thomas hall, Benet also gave a facelift to the facade of St. Joseph hall, repairing and renovating the weathered stones and concrete. Seeing the windowless balcony was like glimpsing at a hundred-year-old photograph of Benet. New window installations will adorn the outside of St. Joseph's. The second and third floor balconies have received a level concrete floor to reinforce the previously unused space. In order to provide access to the third floor area directly across from the Little Flower Chapel, a hallway has been created through a space that previously belonged to Mr. Randy Aust's classroom. The final change to St. Joseph hall made this summer is the installation of a new roof, which matches the roof of St. Thomas hall.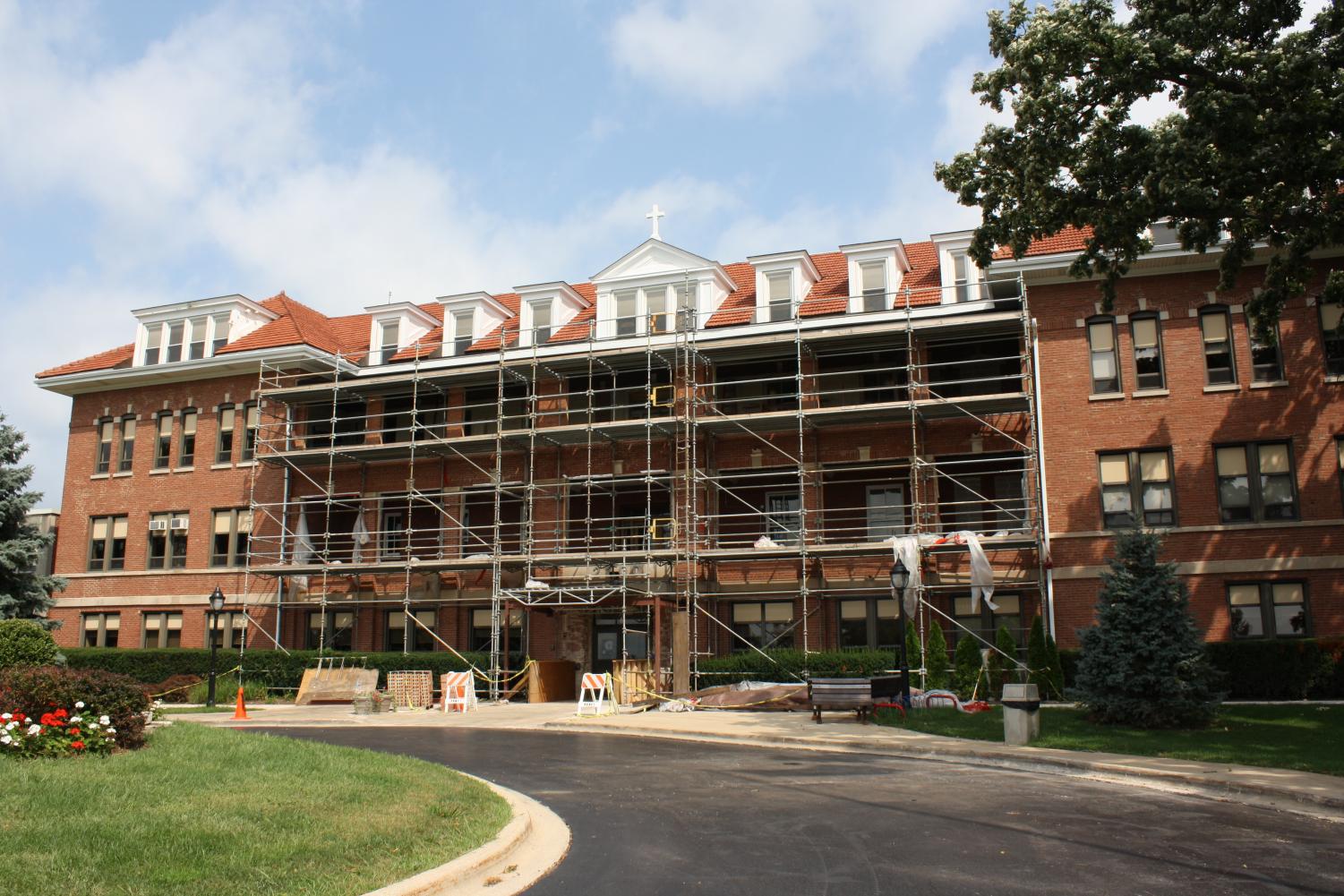 Other renovations have also been made throughout Benet. A powerful air conditioning system has finally been added to the weight room, and the lighting in both the Alumni and St. Ronald gymnasiums have been upgraded.
On the school's grounds, the junior varsity baseball field on the north side of campus is in the process of being redone, and other renovations are planned to begin in the fall. Lighting fixtures will be installed along the pathways on the south side of Benet, thanks to a gift from the Mothers Club, and last, the announcer's booth above the track field will be torn down and replaced. Although there will be construction surrounding the school for a while longer, the results are sure to be worth the wait, as Benet begins to make the physical changes needed to help bring the school in the twenty-first century and to prepare for the future of education.