Look Toto, We're Not in Benet Anymore!
Hang on for a minute...we're trying to find some more stories you might like.
In late July, twelve Benet students had the opportunity to travel down to the charming town of Atchison, Kansas, and partake in this year's Benedictine Youth Congress. These students volunteered to take three days of their summer to come together with teens from across the country to share Benedictine tradition and learn how to be a Catholic leader within their own school. This conference is held for students every six years at different locations and with different student leaders. This year's students, who ranged from incoming sophomores to soon-to-be seniors, were hosted by Benedictine College, a beautiful campus right on the border of Kansas. They, along with students from California, Missouri, Arkansas, and New Jersey, bonded in prayer, knowledge, community, and late-night ultimate frisbee games.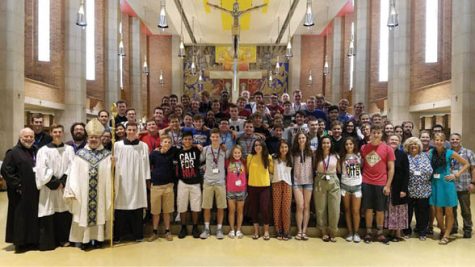 The students began each day with breakfast and then raced to the conference room to pray and write notes about each beautiful seminar. The seminars included such topics as The Rule, brotherhood and sisterhood, community, communication, balance, and vision. After a meeting session, students were able to join monks from St. Benedict's Abbey for morning mass and then for the monk's midday prayer of chants. After more inspiring lessons from the various Benedictine schools, they prayed vespers with the monks and ended with Lectio Divina led by students.
Students mentioned that the community between the numerous Benedictine schools was nationwide and welcoming. Junior Matteo Caulfield exclaimed, "The Benedictine Youth Conference made me realize that Benedictine virtues of balance and stability make every individual person so strong no matter where they came from." Mr. Randy Aust, one of Benet's religion teachers, recalled, "Being Benedictine is about more than simply having an association with a monastery, or having monks on campus. It's a way of life that should spread throughout everything that we do as a school." The students who were selected to go to this conference were blessed with the chance to learn how to deeply and intentionally live out their Benedictine heritage!