New Faces at Benet
Hang on for a minute...we're trying to find some more stories you might like.
While walking to their classes this school year, students will be sure to see a lot of new faces around the hallways–teachers included! Benet welcomes ten new teachers for this year, with one in almost every department.
Ms. Maggie White, who will be joining the English department as the substitute for Mrs. Elizabeth Boland during her maternity leave, loves teaching the purpose behind every author's work, making connections with their work, and inspiring students' love of literature. Ms. White graduated from Benet Academy in 1996 and has taught at various schools in Illinois since then. She is overjoyed to return to Benet Academy to see many of the teachers who inspired her love for learning. In her free time, she enjoys watching college football and basketball.
Mr. Matt Grigas, a member of the Benet Class of 2001, will be teaching American Literature to sophomores and Advanced Composition to seniors. He taught at Neuqua Valley and Metea Valley high schools before coming to Benet this year. He is looking forward to being back at his alma mater and being able to work with such great students and teachers.
Mrs. Megan Bakken, though not an alum herself, is excited to teach English at Benet after hearing good things from some of her husband's friends who did attend Benet. She grew up outside of Detroit and has taught English at an independent school in Michigan for six years. Last year, she and her husband moved here for his job. She brings her skills to Benet's English department, teaching freshmen and sophomores. To Mrs. Bakken, independent schools such as Benet are a key environment in which students are not just taught but nurtured, and she looks forward to teaching in a school that has the same values as she does.
Mr. Dan Billish, like Mrs. Bakken, is not a Benet graduate, but still looks forward to teaching English here. As a graduate of Brother Rice, his faith is very important to him, and he was looking for a community that felt the same way. He will be teaching freshman and sophomore English at the Academy. Previously, he has taught at various high schools in the Chicago area. When Mr. Billish isn't hard at work teaching, he's hard at work training. He has completed three Ironman Triathlons and will be going for his fourth in September.
Students signed up for Drawing 1 and Studio Art might also see a familiar face when they attend their first art class of the year. Ms. Olivia Hyman is a Benet graduate from the Class of 2012. She took both art classes during her time and Benet and loved them. Our new art teacher says she "can't wait to begin!"
Last year saw the departure of two beloved Science teachers on the Benet Academy staff due to retirement. However, there are two new Science teachers this school year whom the students will surely love, Mrs. Laura Dovalovsky and Ms. Elizabeth Monson.
Mrs. Dovalovsky will be teaching Conceptual Physics to sophomores this year, as well as Chemistry to juniors. Before coming to Benet, she taught the same subjects at Plainfield Central High School. Prior to becoming a teacher, she was a chemical engineer. In her spare time, Mrs. Dovalovsky enjoys attending soccer games and exercising. She will also be a coach on the Scholastic Bowl this year, where she looks forward to working with Benet students outside of the classroom.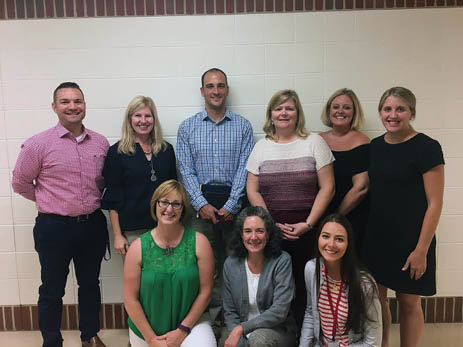 Ms. Monson will be teaching Conceptual Physics this year. Before teaching at Benet Academy, she taught at Farmington High School in Michigan and Zurich International School in Switzerland. In addition to Ms. Monson's love for physics, she loves to travel and explore new places both domestically and internationally. Ms. Monson also enjoys to hike, ski, and participate in Crossfit. She is ecstatic to begin this school year and spread her knowledge of physics to the sophomore class.
Ms. Brenda Crosby will being joining the foreign language department, teaching French I, III, and IV. Last year she taught French at a high school in Winnetka and for twenty-six years before that she taught at the Illinois Math and Science Academy. This year she is "looking forward to meeting, and learning with and from, and working with my new students!" In her free time Ms. Crosby enjoys bicycling and even met her husband through the sport.
Mr. Nicholas Dirienzo, who graduated Benet in 2005, will be entering his first year as a Social Studies teacher at his alma mater this year. He will be teaching U.S. History to juniors, as well as World History to freshmen. Before arriving as a teacher to Benet, he was previously a teacher at Joliet West High School. In his spare time, Mr. Dirienzo enjoys playing baseball. He also likes visiting estate sales and flea markets, and he is an avid gardener. He just recently planted an organic garden in his yard.
Another Benet Alum, Mr. Colin Doyle, will be joining the staff as the Manager of Alumni Relations. He graduated from Benet in 2008 and from North Central College in 2014. He decided to come back to Benet Academy after volunteering as an assistant baseball and basketball coach and getting to know the faculty on a professional level. Mr. Doyle enjoys playing baseball and listening to country music.
Also joining the Benet staff is our new human resources manager. Mrs. Tracy Maguigad actually began working at the Academy last May, however this will be her first full year at Benet. Prior to joining the Benet staff, she worked at Little Friends Incorporated, a nonprofit organization. Her daughter is a 2014 Benet graduate, and her son will be graduating Benet in 2019. She enjoys scrap-booking as well as various arts and crafts. She is very excited to start out this new year working at Benet.
With all the new teachers joining the Benet Academy staff, it is sure to be an exciting year full of new experiences for everyone. Both teachers and students are excited to get to know one another and to learn from each other. This school year is sure to be an exciting one!