Guatemala 2017: Redwings on a Mission
Hang on for a minute...we're trying to find some more stories you might like.
This summer, twenty-one Benet students and four adult chaperones participated in a service trip to Guatemala. During the week of service, these students built a house for a family who had never before even had a door that locked.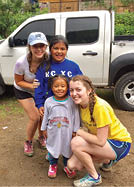 They were separated into four different work groups and did everything from laying bricks for the walls and mixing concrete to installing the tin roof.
The trip did not only consist of work, though. The students were able to spend a lot of time learning about Guatemalan culture from their host family and others they met on the trip. They learned how to make tortillas, which make up a large part of Guatemalan cuisine, and about weaving, a skill almost every woman throughout the country knows and uses. They also spent their free time exploring the country through hikes and were able to go ziplining over Guatemala and Antigua, which allowed them to see the landscape from a completely different angle.
Gwyneth Burns '18 loved when, at the end of the trip, the group played soccer on top of a mountain in the rain and fog. "I think everyone felt this sense of accomplishment of what we had completed, along with a connection we now shared between all of us. It's hard to describe the feeling, but in that moment, there was nowhere else I would have rather been."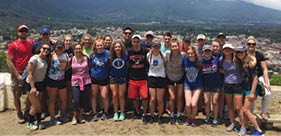 The highlight of the trip for almost everyone who attended though was being able to present the family with their new house at the end of the trip. Annie LaLonde '18 agreed, saying "In that moment there was no language, culture, or individual barrier between us. There was only a shared love." Ms. Ashley Alcorn, a chaperone on the trip, agreed, saying "At the end of the trip, our family wrote us all letters explaining what the house had done in order to change their lives… Thinking about that has continued to impact how I want to live my daily life and the level of gratefulness I have for my education, my family, husband, and my job." Clearly this trip was an amazing experience and will leave a lasting impact on everyone involved.