Falling into Binge Watching: Netflix Recommendations
As fall sets in and the ominous Chicago winter approaches, we're going to be forced from the outdoors back inside. With the pandemic, there's probably not going to be much that's safe to do with friends inside without social distancing and masks, so here comes the return of binge-watching Netflix series. Not to mention, with Halloween coming up, there are plenty of spooky movies and TV series to watch. Here are the perfect picks to make your October. 
Some shows have wrapped up over the course of 2020, and now have released their final seasons onto Netflix. Fans of The Good Place and Schitt's Creek are in luck. Make sure to refresh on earlier seasons and then jump right in. If you haven't seen these two comedies, they both have all-star casts and are great series to start binge-watching as the weather gets colder. Of course, there are always some brand new releases on Netflix, especially Netflix Originals. One of the most popular releases is the new movie of Enola Holmes, starring Millie Bobby Brown and Henry Cavill. The younger sister of Sherlock Holmes, Enola (Millie Bobby Brown) sets out to solve her own mystery: her missing mother. A perfect mystery movie for October! One last new release, another Netflix Original taking the world by storm, is Ratched, starring Sarah Paulson. Created by Ryan Murphy, who you might know from American Horror Story, Pose, Hollywood, American Crime Story, and more, this is truly the perfect new show for October. Based off of the novel One Flew Over the Cuckoo's Nest (if you're more of a book person), Ratched focuses on Nurse Mildred Ratched, a nurse at a psychiatric hospital in the late 1940s. As always, there is more to the story… but you'll have to watch to find out!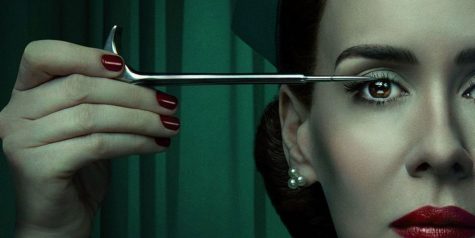 If you're simply looking for movies and TV shows to inspire the Halloween mood inside of you, there's no lack on Netflix. Chilling Adventures of Sabrina, developed by the creator of Riverdale, is a modern interpretation of the story of Sabrina Spellman. More of a sinister take, this series is three parts with hour-long episodes, so it's perfect to watch on the weekends and at night before you go to bed. With just around thirty episodes, it will take you through the month of October.  For a more lighthearted watching option, check out The Addams Family. The iconic, loveable family is front and center in this 1991 film and features a lot of your favorite characters from Benet's musical last year. Obviously, this article needed to feature at least one classic horror movie, but there are many options on Netflix: Scream, Poltergeist, and Silence of the Lambs, just to name a few. Whether you're looking for an intense psychological thriller, a classic jump scare movie, or a supernatural horror film, you'll find an abundance of them on Netflix to suit your every need. 
So, as the weather grows colder, there's no need to fear. Grab some popcorn and a blanket and turn on some Netflix. If you can't be physically present with friends due to the current circumstances, it's still possible to watch TV together. Although not technically endorsed by Netflix, the Google Chrome extension makes it simple and accessible to watch Netflix with friends, no matter how far apart you are. Whether you end up rewatching your favorite show, find a new favorite movie, or continuously watch Halloween-themed movies and TV shows, there's something for everyone.
Source: https://www.netflix.com
Leave a Comment