Democrats for 2020
A Full List of Candidates Seeking the Nomination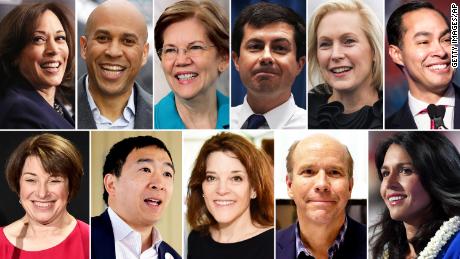 Hang on for a minute...we're trying to find some more stories you might like.
The 2020 presidential election is already shaping up to be a competitive and intense race. With a staunchly Republican executive branch and a newly Democratic legislative branch, the United States government and the American people are both deeply divided in an ideological and political sense. As a result, the race for the presidency is beginning to heat up between both sides, and there are already many politicians who have officially announced their candidacy to become the Democratic nominee for this position.
Cory Booker, the senator for New Jersey and former mayor of Newark, announced his bid for president in early February.  The 49-year-old plans to focus his campaign around a message of love, unity, and bipartisanship. As one of the two African Americans already in the race, Booker plans to build his base around African American support.
Julian Castro, announced his bid for the Democratic nomination for the presidency on January 12, 2019. He served as mayor of his hometown San Antonio, Texas, from 2009 until 2014, when he was called on by President Barack Obama to become the sixteenth United States Secretary of Housing and Urban Development. In his announcement, Castro emphasized his support of Medicare for All, universal pre-kindergarten education for Americans, and a pathway to citizenship for undocumented immigrants coupled with comprehensive immigration reform. Castro has also gone on record to support a "balanced budget" for the nation's economy, the Affordable Care Act, the Paris Climate Accord, the right to an abortion, and the rights of the LGBT community. The first Texan to enter the race, Castro will have to contend with fellow longhorn and popular choice Beto O'Rourke within his home state for the nomination.
John Delaney, the first Democrat to announce their pursuit of the party's nomination for the presidency, declared he would run on July 28, 2017. He served as the United States Representative for Maryland's 6th congressional district from 2013 to 2019. A former business owner, Delaney started two businesses that are now traded publicly on the New York stock market. He supports legislation ensuring equality and has been described as a candidate whose ideology cannot be easily described, but leans in the moderate direction.
Tulsi Gabbard, announced on January 11, 2019, her plans to seek the Democratic nomination for the presidency. She is a veteran, having served in the Hawaii Army National Guard in Iraq from 2004 to 2005 and being deployed to Kuwait from 2008 to 2009. Gabbard previously served in the Hawaii House of Representatives from 2002 to 2004, and after her deployment, was Vice Chair of the Democratic National Committee until February 28, 2016. She supports abortion rights and Medicare for All and condemns U.S. intervention in Iraq, Libya, and Syria. However, while Gabbard has recently shown support for same-sex marriage and LGBT rights, her previous record of voting and lobbying against such interests has attracted some controversy to her campaign.
Kirsten Gillibrand, the junior United States senator from New York since January 2009, announced her bid for presidency. Before her senate appointment, she held the position of U.S. representative for New York's 20th congressional district from 2007, winning a first-time congressional bid against a four-term Republican incumbent.  Gillibrand announced her bid for the presidency on January 15 on Stephen Colbert's late night talk show. Her campaign will deal with universal health care, public schooling, job training, and corruption in the country's higher institutions and systems.
    Kamala Harris, a senator for California and former attorney general of California and district attorney of  San Francisco, officially announced her bid for the presidency in late January of this year. Harris is the first African-American senator of California, as well as the first African-American candidate to enter the 2020 race. Harris has a reputation as a fierce litigator and strong advocate for civil rights, and the aim for her campaign is to become a "voice for the voiceless," especially focusing on public service.
John Hickenlooper, the governor of Colorado from 2011 to 2019, announced on March 4, 2019, that he intended to seek the Democratic nomination for the presidency. Unlike candidates such as Bernie Sanders, Hickenlooper, a former businessman, has stated in interviews that he is a capitalist and is seen by many in his party as a more moderate Democrat. His platform centers on ending divisive politics in the United States and opening a new era of American optimism that will fuel important work being undertaken by the country. He lacks the name recognition of other candidates but approaches this campaign with a great deal of optimism, stating, "at four syllables and twelve letters, 'Hickenlooper' is now the biggest name in the race."
Jay Inslee, the governor of the state of Washington since 2013, announced his bid for the Democratic nomination for the presidency on March 1, 2019. A noted critic of President Donald Trump and his policies, Inslee, his State Attorney General Bob Ferguson, and State Solicitor General Noah Purcell sued the Trump Administration over Executive Order 13769 in early 2017. This Executive Order had been intended by the Trump Administration as a ninety-day travel ban on seven majority-Muslim countries and a total ban on all Syrian refugees coming to the United States, and it was succeeded by later executive orders aimed towards a similar objective. Inslee is running on a progressive platform to secure the nomination, vowing to "tackle climate change, strengthen working families, and grow good-paying jobs."
Amy Klobuchar, the senator for Minnesota for the past twelve years, was the first Democrat from the Midwest to announce her candidacy for president.  Because of her Midwestern and more centrist background, she hopes to win back many of the moderates and independents from this region who voted for President Trump and sealed his presidential victory.  
Beto O'Rourke, is the most recent candidate to announce his bid for the Democratic nomination for the presidency, declaring his intent to run on March 14, 2019. He had served on his hometown of El Paso's City Council from 2005 to 2011, going on to become a United States Representative in 2012. In 2018, O'Rourke embarked on a dramatic campaign against incumbent Republican Texas Senator Ted Cruz, but was defeated by a narrow margin. O'Rourke is more of a centrist than the rest of the Democratic field, but he is very focused on immigration issues such as a path to citizenship for undocumented immigrants, the closing of private immigrant detention centers, and opposing President Donald Trump's proposed border wall.
In February, Bernie Sanders launched his second campaign for president. The independent Vermont senator is running in the Democratic primary as a self-described "democratic socialist." Unlike his 2016 campaign, Sanders' name is now well known, and he is a front-runner in the polls. His core campaign message remains unchanged: he is against income inequality and a "corrupt" campaign finance system. Also at the forefront of his bid will be racial justice and a progressive foreign policy.
Elizabeth Warren, a senator for Massachusetts, announced her bid for the 2020 presidential race in early February of 2019. She is the first female senator for her state, and her campaign will largely revolve around progressive ideals and championing the middle class. However, Warren faces an early hurdle to her candidacy as statements about her ancestry and ethnicity have recently come under fire, especially in her claims of relation to Native Americans.
Marianne Williamson, is a spiritual teacher, author lecturer, entrepreneur, and activist. She has written thirteen books, four of which were New York Times number one best sellers, and founded Project Angel Food, a volunteer food delivery program which serves those homebound with life-threatening illnesses. Williamson attempted to run independently in 2014 for the seat of California's 33rd congressional district in the United States House of Representatives, but was unsuccessful. On January 29, 2019, she announced her nomination for the Democratic nomination for the presidency.
Andrew Yang, is an American entrepreneur and founder of Venture for America, a nonprofit which trains recent graduates of college and younger professionals to work for startups in emerging cities throughout the United States. He announced his bid for the Democratic nomination for the presidency on November 6, 2017, and his main campaign promise is the implementation of a provision for universal basic income (UBI) for every American adult as a response to increasing automation challenging the workforce.
Though he has not officially announced an intent to run for the presidential office in 2020, former Delaware senator and former vice president Joe Biden is considering throwing his hat in the ring and has already made strong indications that he will join the fray. Already, though, the Democratic primary looks well-stocked for the coming election, putting the party in the unique position of having almost too many options to choose from. On the other side of the aisle, the only current member of the Republican primary is President Donald Trump, as a challenger has yet to rise to represent this party against the growing field of Democrats.
While not all of these candidates are well-known, it is only fair that they be given equal coverage by the press and equal consideration by the people. What's more, another Donald Trump or Barack Obama may emerge from this field of tenderfoots, a political unknown who will come to dominate their party quickly and unexpectedly while rising to the presidency.