Clarinet-Playing JV Avion, Megan Montinola, Marches to the Beat of Two Drums
Hang on for a minute...we're trying to find some more stories you might like.
Megan Montinola, a freshman clarinet player and JV Avion, is the second Benet Academy student over the last four years to grace both the Benet Academy's Marching Band and JV Avions team. Since the age of three, Montinola has been doing all different forms of dance including poms, pointe, musical theater, contemporary, hip hop, and jazz.  Montinola naturally joined Avions. She left her ballet studio, Salt Creek Ballet, earlier this year to pursue more activities and get more involved in high school. Had she chosen to stay with the company, she would be dancing for four hours every day.
Though she's excited to take on both extracurriculars, her chosen activities have proven to be a bit difficult to manage as Avions practice on Tuesdays and Thursdays, and Marching Band practice on Thursdays as well.  On practice days Montinola is at the Academy from seven in the morning to around nine at night. If there's a home game, she's at Benet even later- until ten at night. Montinola takes this in stride, however, and uses any and all possible time to get homework done and attend other activities such as SALT and student government. "I try to get everything done as much as I can before practices. I only get an hour break to eat, but there are a lot of distractions like my friends." Montinola explained.

Not only does Megan love to dance, but she's also been playing clarinet and piano since fourth grade. Though she doesn't use her piano talents in school, she plays her clarinet in the Marching Band. Montinola's mother actually was the one who encouraged her to try out for band.

Both Avion coaches, Mrs. Jennike Kinser and Mrs. Alison Takahashi, and Marching Band director, Mr. Richard Alifantis, have encouraged Montinola to continue performing for both groups. "There's so many nice people there, and I enjoy it when I go there after school." Montinola said.

Montinola doesn't regret her decision to join both Marching Band and JV Avions- though she does miss Salt Creek Ballet. She still wants to be involved in the company which gave her the skills to dance on Avions, and that is why she's going to help them with their auditions for her favorite show: The Nutcracker. Out of all the years she's been in the Nutcracker, her favorite were the times when she played a character in the Chinese dance and when she played a gymnast.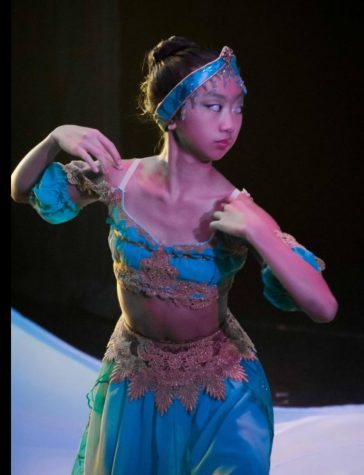 Montinola pointed out that if it wasn't for her parents wanting her to be diverse in and excel at various interests and activities, she wouldn't have been doing ballet and band for as long as she has.