Benet's Summer Renovations
Benet Academy has changed in many ways over its 130 years of existence. It has moved from Chicago to Lisle, combined St. Procopius and Sacred Heart Academy into one school, and seen numerous renovations, refurbishments, and upgrades to the campus and its buildings. This summer, the gears of progress were again churning as two more important projects were underway: turning the upstairs weight room of the Alumni gym into a fully-outfitted fitness center and the refurbishment of the Science office in Thomas Hall into a Science Alliance design and engineering space.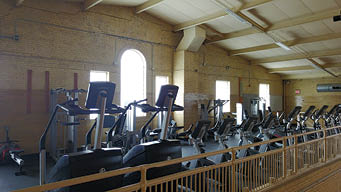 ​The idea to change the Alumni gym's old weight room into a state-of-the-art fitness center was thought up years ago by the Physical Education department, but the task was slow-going due to the difficulty of finding the right company to provide the proper equipment for the space. Mr. Joe Cabay and Mrs. Sarah Patterson have spearheaded this project as of late, and the entire department's determination has finally paid off. The space has been cleared of all the previous equipment to make room for top-of-the line replacements. Students will benefit from this new fitness center by having more individualized workouts as a part of the P.E. curriculum. This space will also be useful for students who have physical needs that require them to follow a separate, personalized schedule during certain units of P.E. Athletes will benefit from the new equipment to help keep them in shape during their season, and teachers who choose to use this space to exercise in their off-period or before school will also enjoy these changes. This new fitness center will truly revolutionize the way Benet exercises, as new equipment and technology improves this space.
Students who are interested in science and engineering will be excited to learn that a previously-used office in Thomas hall has been refurbished to create a new engineering and design space for academic teams that revolve around building and testing structures and devices. Such Benet teams include Science Alliance, the VEX Robotics Team, and the Rube Goldberg Team. These teams previously used the physics lab in room T108 to perform their experiments but now will be receiving their own personal space that will not be shared with regular classes. This new area is the brainchild of physics teacher Mr. Pat Marshall and will occupy the old Science department office. As of now there is no official name for this space, although one of the current ideas up for consideration is the Redwing Engineering and Design (RED) Lab. Regardless of its title, this space will be a vast improvement for science-centered teams at Benet and, hopefully, will lead to a future atmosphere of designing and building that extends beyond these groups.
These seemingly minor changes to Benet may not be as ground-breaking as previous projects the school has undertaken, but, just like past efforts, these renovations will provide new opportunities to Benet students and will help them improve themselves in mind and body.