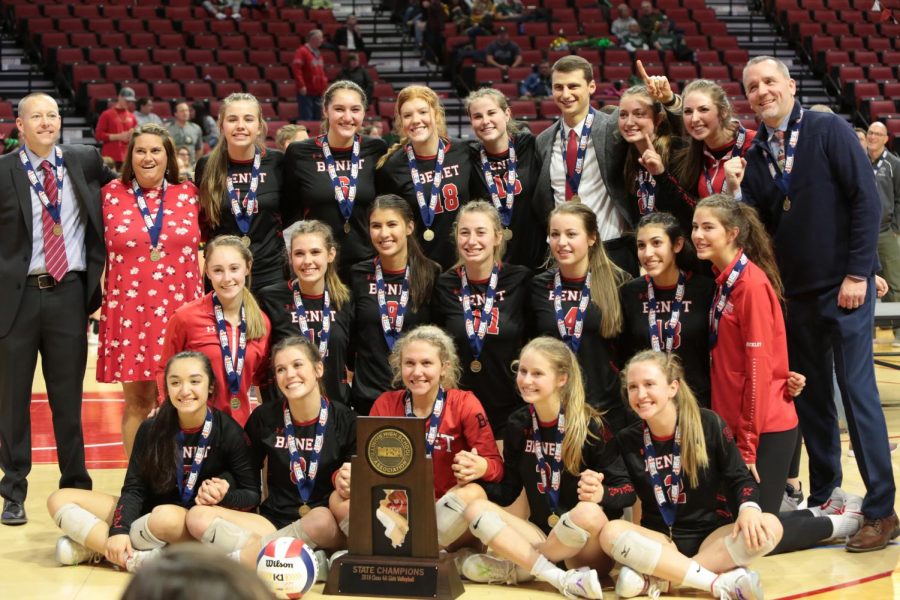 After a long victorious, near perfect season, the girls volleyball team clenched the class 4A State Championship on November 16. These Lady Redwings had an impressive overall record of 41-1. Leading the team were head coach Brad Baker and assistant coaches: Kyle Reid, Kim Sayers, and Jeff Steinberg. With a lone loss to Marist mid-season, the team came back even stronger to triumph into the state playoffs. The girls ended up having to face Marist for the third time this season in the State Semi-Final for a much anticipated rematch. The Redwings came with tremendous support, wearing all gray at the match against Marist and all red in the championship match against Wheaton-Warrenville South. The Lady Redwings won in two sets; 25-12, 25-23 and then went on to face Wheaton-Warrenville South for the title; 25-12, 25-16. Another exciting match up never happened between Benet and Fremd. Coach Baker and Coach Reid have daughters who play for Fremd High School who also made it to the final four. However, Fremd fell to Wheaton-Warrenville South on Friday night leaving the coaches conflict free on the road to victory.
After senior Colleen McGuire executed the finishing hit straight down the line, the girls erupted into celebration storming the floor and falling into a pile of excitement. This is the girls' fourth state championship in the last nine years: 2011, 2012, 2014, and 2019. The Lady Redwings were recognized in an all school assembly for their hard work and endless efforts throughout the season. Seniors Hattie Monson and Sophie Gregus are advancing to D1 volleyball next year to play indoor volleyball University of Notre Dame and the University of Illinois at Urbana-Champaign respectively. Colleen McGuire will be playing D1 beach volleyball at UC Davis.
Congratulations to the girls class 4A State Champs!