Our Memories of Father Ed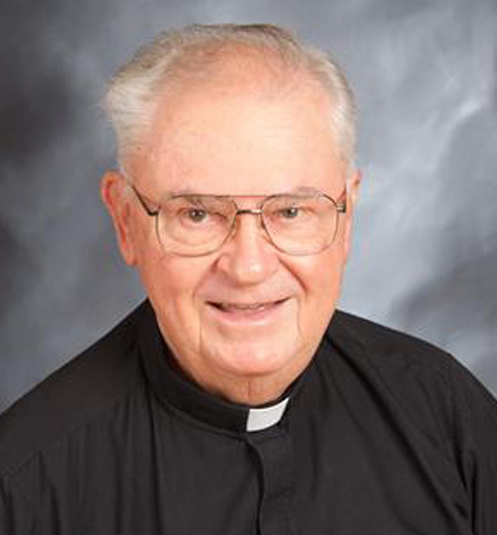 We can still picture him now, rolling in on his wheelchair with a smile that could brighten anyone's day.
Father Ed was always there for the Benet Academy students, armed with precious stories from his Air Force days or a nugget of advice on how to make the most of life. Although Fr. Edward Kucera passed away on September 21, his presence is still with the Benet community.
We will forever remember the frequent sound of his chair buzzing through the hallway or his contagious laughter. Most importantly, we will remember how Father Ed truly cared about each and every student.
Father Ed loved hallway conversations. He loved visiting the cafe and talking to students at the lunch tables. He was even Benet alum Kara Hand's elevator buddy when she was injured! Senior Megan Seranko reminisced, "Every time I talked with Father Ed in the hallway or at lunch, he never failed to make me laugh. He was so caring and asked me about my family and how things were going." More specifically, students remember their amazing confessions with Father Ed, who made them feel at home and at peace with themselves: "Once a week he'd give me a confession, and I really just felt that he cared about me," Benet alum Maeve Scheltans recalled. "Sometimes being in a school where it felt like everyone was only looking out for themselves, it was really refreshing to have him around 'cause he cared about you and what you were going through." Senior Tyler Briles recalls, "His confessions were…the best. I remember going to confession freshman year. I confessed to him that it was my first confession in way too long. He immediately stopped me and said, 'And that's okay because you are here now.' He was awesome." Senior Gaby Mendoza also expressed her love for the Sacrament of Reconciliation with Father Ed, saying, "I could trust him to be honest but kind with me. Once we spent a whole fifteen minutes just talking about how my mom went to UIC, and he would talk about his army days."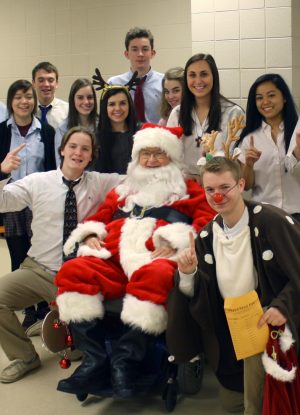 Father Ed truly loved to tell stories, especially about his time in the Air Force. Father Ed knew that I was Filipino-American, so whenever he saw me in the hallways, he would always tell me stories about when he served in the Philippines and show off the phrases he learned in Tagalog, the national language of the Philippines.
He loved to smile. He loved to laugh.
In fact, Father Ed was known for his amusing costumes. From dressing up as Carl Frederickson or Zeus during Homecoming Week or Santa Clause during Christmas Drive, Father Ed was always there for a laugh and an unforgettable picture for the Benet Instagram.
Mrs. Lori Rogalski's absolute favorite memory of Father Ed was when he visited her silent study hall years ago. "I can't help but smile when I think of him coming down to my silent study hall," she explained, "…all of a sudden you would hear jingle jingle jingle jingle." Suddenly, Father Ed (or should I say, "Santa Claus") appeared, happily reminding the students that he was available for pictures. "I felt like just the idea of him in that character reminded me of how authentic it felt to his caring and generous spirit," Mrs. Rogalski explained. 
Though Father Ed is with the Lord, the memory of his vibrant presence, infectious laugh, and giving nature will always remain.
Thank you, LORD, for this kind, adventurous, and joy-filled man.
Leave a Comment