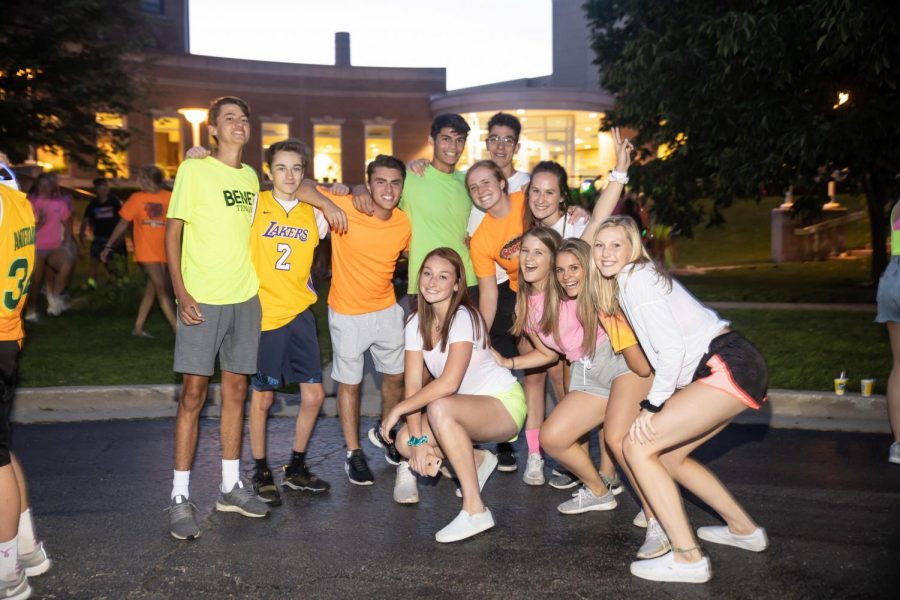 Who doesn't love snow cones, glow sticks, fantastic music, and dancing with friends? This year's back-to-school sock hop, Glow Back to School, was the best one yet! Everyone, from the seniors to the freshmen, enjoyed their time, singing and dancing with friends.
Unlike previous years and due to the ongoing construction of the new Arts & Ideas Center, the sock hop was held outside of St. Daniel Hall, providing a large space to dance and hang out with friends. For many, it was an opportunity to see classmates who they had not seen all summer. For freshman Ava Akroush, it was an opportunity to make new friends: "It was such a fun night and a fantastic way to become closer with friends and even make new ones!"
Everyone relieved the stress of the first day of school by jamming out to the fun music. Some fan favorites were Come on Eileen, Truth Hurts, Baby, Dancing Queen, In My Head, 100 Bad Days, and Unwritten.
Student Government President Edmon Bickelhaupt hopes to continue the fun throughout the school year: "I loved walking around and seeing everyone having a great time; whether they were dancing to the music or grabbing a snow cone, it was an amazing feeling. Abby and I are going to go into every future sock hop with the goal of working to create that same overall atmosphere throughout the year."
The night ended with the traditional Benet closing song of Piano Man by Billy Joel. It was blasted into the audience as everyone, new and returning students of Benet Academy alike, embraced each other and belted the lyrics as loud as they could. It was a new experience for many, and for others, it was a bittersweet moment.
One couldn't have asked for a better way to start off this school year. Don't forget to keep an eye out for future events and sock hops. You don't want to miss 'em!