Singing in…Spain!
Hang on for a minute...we're trying to find some more stories you might like.
Imagine…
Forty-seven American choir students traveling throughout southern Spain.
Were we…
Excited? You could say that.
Grateful? Yes, of course.
Loud? Incredibly so.
Nevertheless, no adjective could possibly describe the joy overcoming all of us as we saw countless people's smiles, from the tourists to the natives, in the streets and cathedrals of Spain that grew as a result of our music and of our choir.
This summer, from June 9 to June 20, Benet Academy's Concert Chorale and Madrigal Singers, as well as Mr. Brian Wand, Mrs. Lauren Butera, Señor Ramon Marth, Señora Laura Marth, Ms. Elizabeth Byers, and Mr. Charles Pipal had the incredible opportunity to travel overseas to the exotic country of Spain. Every other year, junior and senior music students are invited to perform in a new, exhilarating location. Two years ago, that location was the culturally-rich region of Ireland. This year, it was the home of flamenco dancing, paellas, and a great number of iconic cathedrals.
On June 9, fresh out of the school year, we arrived at the Chicago O'Hare Airport, ready for an action-packed trip of adventure and music. The flight was long, however, the abundance of movies, comfortable pillows, and interesting strangers sitting beside us made the flight easier to handle. Before we knew it, we touched down in Madrid, Spain.
Since we arrived at around 7:00 a.m., our first day was a productive one. Straight out of the airport, we rode a bus from Madrid to Segovia, where we took pictures in front of an ancient Roman aqueduct, explored the city, and had our first few bites of authentic Spanish cuisine. A short time later, we boarded the bus again for Avila, the birthplace of St. Teresa, where, after Mr. Pipal informed us of the walled-in city's rich history, we visited the cathedral and walked atop the bordering walls. Following our visit to the cathedral, we were off to Toledo.
In Toledo we took a walking tour, navigating through the narrow streets that led to the magnificent cathedral where we later performed. We traveled to Cordoba, where we visited the Mosque-Cathedral. This was one of the most unique stops of the entire trip, as we were able to walk through an architecturally-stunning mosque, framed and built around a central Baroque cathedral post-conquest. My three friends and I ate a quick lunch of salmorejo (chilled tomato soup) in a tiny outdoor restaurant where we befriended a guitar player and sang a quick song for him the other customers.
We took a bus to our next stop, Seville. After a restful night filled with food and song, we took a walking tour. We visited the Palace as well as the Cathedral, the third largest in the world and the burial place of Christopher Columbus. At the end of the day, we had the opportunity to watch a showing of flamenco song and dance, preparing us for our flamenco dance lesson the next day!
The next morning, we sang at the Plaza España. Afterward, we had some free time during which we explored the location and shopped a little. We performed at a wonderful local church, where we shared the stage with a Spanish elementary school choir. Following the concert, we had dinner with the children and their parents, some of us having the opportunity to speak with the young children who excitedly practiced their English.
Our next destination was Marbella. At the incredibly wealthy city of Marbella, we were able to swim in the Mediterranean Sea and explore the streets of luxury shopping. After a long day of traveling by bus, we arrived in our "home" for the next few nights, Granada.
At Granada, we took a tour of the Alhambra, the palace of the infamous Ferdinand and Isabella. We explored the city and sang for mass at a local church. After mass, we had a concert, where the congregation stayed to listen to our songs. At the end of the night, we walked back to our hotel which consisted of a thirty-minute uphill climb for which choir students are not exactly built. But we did it, and now we have stronger legs!
Yet, I digress. The next day we visited another cathedral and had our final performance in the middle the Plaza of St. Nicolas, the sunset gleaming across the horizon. We were soon on our way to Madrid, our final destination.
The attractions abounded in Madrid; some of the places we visited included Retiro Park, the Reina Sofia Museum of Modern Art, and Prado, the National Museum of Art. After a full day of exploring Madrid, we tearfully bid goodbye to each other. We sang to Mr. and Mrs. Marth, wishing them good luck, for they were going to remain in Spain to walk El Camino and explore even more. We sang our final songs, The Irish Blessing and the Alma Mater, and retreated back to our rooms, readying ourselves for the next day of traveling.
Spain was absolutely amazing. We were able to completely immerse ourselves in all that Spain had to offer. We practiced speaking Spanish to natives, performed our well-rehearsed set of songs for appreciative audiences, and made memories that will last a lifetime.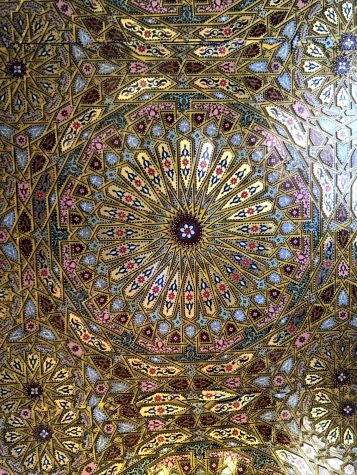 Ceiling in the Alcazar in Seville