A Favorable Reaction: Benet's Science Olympiad Team Goes to State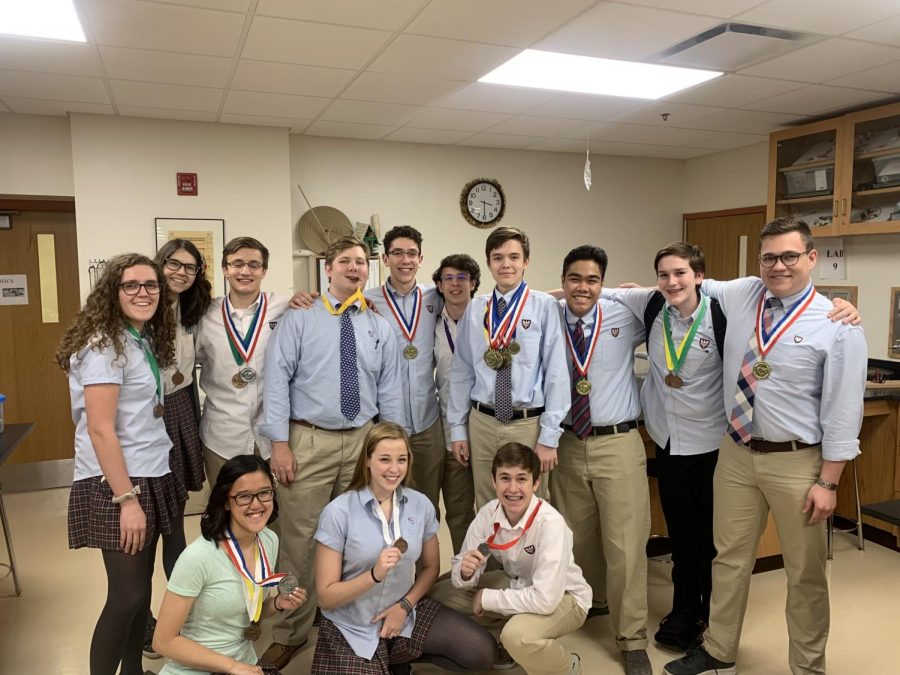 Gino Kozel '19, Editor-in-Chief
May 3, 2019
At the high school level, there exists a wide range of academic competitions for students to take part in, ranging from debate and mock trial to math and scholastic bowls. However, there is but one arena for those individuals interested in STEM fields: the Science Olympiad, a competition to test participants on topics within the three major fields of science: biology, chemistry, and physics. This storied training ground of future engineers and researchers celebrated its fiftieth anniversary for the 2018-2019 season, and Benet Academy was proud to be able to return to the State Competition at the University of Illinois in Urbana-Champaign after a year of hard work by its team.
    Science Olympiad is structured in a similar way to Track and Field. There are twenty-three separate events that teams compete in, with a maximum number of fifteen students per team. The competition lasts an entire day and see competitors taking exams on specified subjects, being thrown into problem-solving scenarios, and testing pre-built devices meant to accomplish goals such as flying or propelling an object forward. Medals are awarded to competitors that finish in the top five for their individual events, and the composite team score of all individual performances determines a team's rank. Teams practice their skills at invitational meets throughout the season, preparing for the Regional Competition. In order to advance to State, a school must finish in the top five at their Regional, and this year, Benet Academy intently pursued that goal. The team showed strong performances at all three of its invitational competitions, returning each time with a fistful of medals among them. At the Regional Competition, Benet finished fourth to qualify for the state competition, continuing their dominant performances in several events.
    A month after Regionals, the State team of fifteen individuals made the trek down to Urbana-Champaign. The day after they arrived, the students competed and waited with bated breath for the results to come in. They were not disappointed. Although Benet did not move on to the National Competition, the team finished in the top five for eight of the twenty-three events, notching several first and second place victories among their impressive showing. Senior Jake Elder and junior Fernando Lisboa took second place in the event Circuit Lab and first in Thermodynamics, while senior Kaylie Scorza and junior Tasha Rustandi secured another second place for their work in Astronomy. The team also took home four additional first place finishes, each a result of the partnership of junior Paul Skaluba with one of three different seniors: Emil Cacayan, Gino Kozel, and Kaylie Scorza. Skaluba and Cacayan won for Designer Genes, while Scorza and the intrepid junior rose to the top of their field in Water Quality. Last, Skaluba and Kozel marked bookend victories with the alphabetically first and last events: Anatomy and Physiology and Write It Do It. These results, as well as the countless other impressive finishes that did not crack the top five for each event, are a strong indication of a bright future for the Benet Science Olympiad Team. With dedicated and hopeful underclassmen waiting in the wings to make their mark, this team is on the verge of exploding with potential for countless seasons to come.