The Stars Come Out: 2019 Golden Globes Recap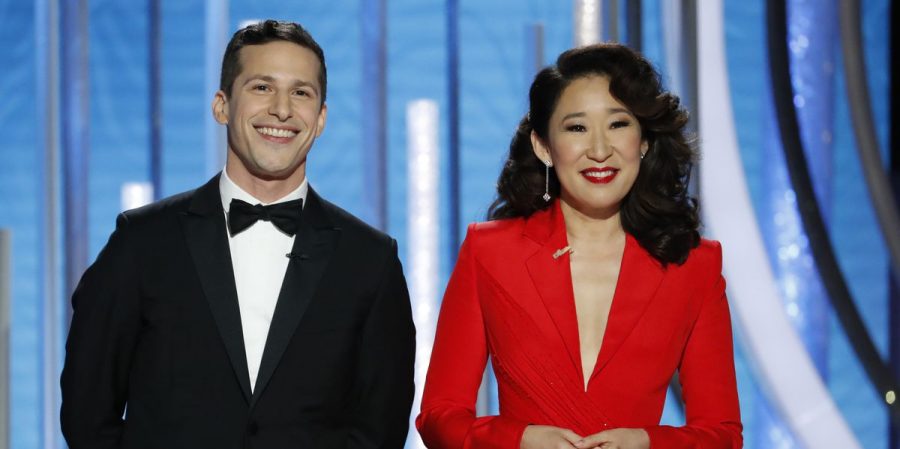 Gino Kozel '19, Co-Editor-in-Chief
January 8, 2019
On Sunday January 6, the cinematic awards season kicked off with the 76th Annual Golden Globe Awards. As usual, the event resulted in emotional acceptance speeches, difficult presenter monologues, and unintentionally funny moments that provided social media fodder for the audience watching at home. However, for those interested in the awards themselves and the films that were nominated, this Golden Globes had an unusually high amount of contentious decisions that left many fans shocked and upset, particularly in relation to such movies as the dramatic and hard-hitting If Beale Street Could Talk, the much-praised remake of A Star is Born, and the surprisingly incredible Netflix offering Roma.
There were only two awards at the Golden Globes dedicated to the behind-the-scenes work done for a film, Best Original Score and Best Adapted Screenplay. The Neil Armstrong biopic First Man quietly secured the first prize, but the winner of Best Adapted Screenplay, Green Book, faced some backlash when compared to rival nominee If Beale Street Could Talk. Both movies center around African American storylines; however, Green Book follows a more typical arc of throwing together a black and white man in Odd Couple fashion to see them work out their differences and becomes friends. This is a heart-warming and delightful narrative with a strong cast and solid acting, as lead actors Mahershala Ali and Viggo Mortenson received nominations for Best Supporting Actor and Best Actor in a Musical/Comedy respectively, but If Beale Street Could Talk was a more poignant and pointed film that takes place entirely in the dominantly African American 1970s Harlem, showcasing the struggles a young black woman faces when her fiancée is falsely accused of rape by a racist police officer. If Beale Street Could Talk also surpassed Green Book on the critic aggregator site Rotten Tomatoes, earning a 94% to their rival's 81%, and was also selected as one of the Top 10 Films of 2018 by both the National Board of Review and the American Film Institute, perplexing many as to why an arguably better and more culturally relevant film did not win.
The two movies went on to dominate their respective categories for supporting actors. If Beale Street Could Talk won Best Supporting Actress in a Motion Picture for Regina King's stunning performance, while Green Book's Mahershala Ali took home the prize for Best Supporting Actor in a Musical/Comedy for his role as the no-nonsense pianist Dr. Don Shirley. In their company were the winners of the best lead actor categories, the first two of which were relatively undisputed. Christian Bale secured the prize for Best Actor in a Musical or Comedy for his portrayal of former Vice President Dick Cheney in Adam McKay's satirical Vice. Bale underwent one of his most startling transformations for the role, gaining extensive weight in order to capture Cheney's stature and performing in-depth research on Bush's top advisor to capture his persona and mannerism, making his Golden Globe a well-earned one. Olivia Colman also solidly won the corresponding Best Actress in a Musical or Comedy for her performance beside Emma Stone and Rachel Weisz as the scattered Queen Anne in the critically-acclaimed The Favourite. After the relatively uncontentious Musical/Comedy selections, though, came the awards for the year's dramas, in which Glenn Close was named Best Actress in a Drama Motion Picture for her role in The Wife and Rami Malek won Best Actor in a Motion Picture for his portrayal of Queen lead singer Freddie Mercury in the hit biopic Bohemian Rhapsody. Both actors received praise from critics for their performances, but fans were left sore that A Star Is Born did not win in either of these categories with Lady Gaga or Bradley Cooper, who complemented each other very well on screen in this popular hit. However, the movie did win Best Original Song with "Shallow," easing the pain a bit for its supporters.
Jeff Bridges was given the Cecil B. DeMille Award during the event to celebrate his storied career and contributions to the entertainment industry, cementing his legacy in Hollywood while his euphoria and energy during his acceptance speech seemed to indicate that he still had a few more films left in him. Alfonso Cuarón also decidedly won the Golden Globe for Best Director of a Motion Picture for his work on Roma, the beautiful black and white semi-autobiography of Cuarón's upbringing in Mexico City that also won Best Foreign Language Film. Many were shocked that Roma in addition lost to Green Book for Best Adapted Screenplay, letting this normally unassuming category become an even greater source of contention. Spider-Man: Into the Spiderverse then beat out the competition to secure Best Animated Feature Film, as Sony defeated Disney with a film that not only was dedicated to great storytelling, humor, and animation, but also the genre of comic books and the late Stan Lee.
The awards for best picture came last in the evening, and they proved equally divisive. Green Book won Best Musical or Comedy Picture, beating out fan favorites like Crazy Rich Asians and Mary Poppins Returns as well as the critically-acclaimed The Favourite. This was a difficult pill to swallow, but the race for this prize was so close that it was still accepted reluctantly by fans. The biggest shock of the night came, though, when it was announced that Bohemian Rhapsody had won Best Drama Motion Picture, topping such films as If Beale Street Could Talk and A Star Is Born once again, a choice no one saw coming. Anger quickly spread as fans and critics alike complained at the results, as many hold the cinematically superior offerings should have defeated the Freddie Mercury biopic.
Really, though, these selections encapsulates a theme that ran through the entire night: The Hollywood Foreign Press Association this year valued the underlying ideas behind a film more than the overt actions taking place on screen. Both Green Book and Bohemian Rhapsody's made it to the Golden Globes because of their strong performances and heartfelt stories, but it was the messages they sent to their audience that allowed them to win the evening. Green Book, though less centered around African Americans, provides a hopeful account of interracial friendship and overcoming differences that is a much-needed reminder in a day when polarization colors every part of ordinary life; in stark contrast, the other predominantly African American films at the awards, If Beale Street Could Talk, Black Panther, and BlacKKKlansman, took up a more divisive and angry tone with their choices of story and them, pitting blacks against oppressive and angry whites in what seems like endless struggles, leading to their failures in the Best Drama Motion Picture category. Then, in comparing the surprisingly similar Bohemian Rhapsody and A Star is Born, it is important to keep in mind that while both films tells of struggling young artists coming to terms with who they are and adjusting to hardship in their careers, only one puts the focus on a man who is attempting to also identify his sexuality and suffer through AIDS. Bohemian Rhapsody was able to achieve a diversity of perspective that A Star Is Born, despite its excellent cast and performances, could not match, while also maintaining a conciliatory tone that the other nominees lacked.
While the Golden Globes have been in the past a good indicator for winners of the Academy Awards, there have been instances when publish response to the HFPA's choices has generated such a negative backlash that the Academy will reconsider which films they want to represent their choices. Therefore, it is important to keep this in mind moving forward and keep a close eye on those more controversial decisions.