Artistic Ability at the Academy
Hang on for a minute...we're trying to find some more stories you might like.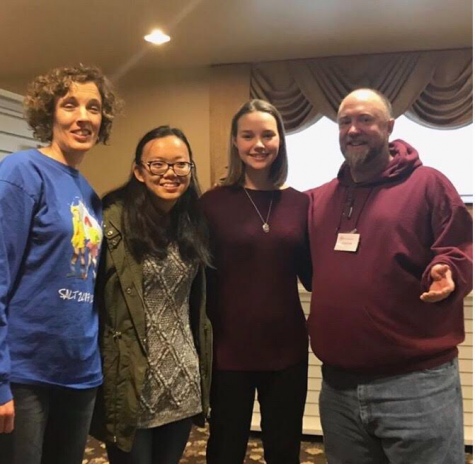 When art is mentioned in the halls of Benet Academy, one name immediately comes to mind: Victoria Grzesiak. Grzesiak is a senior who is renowned school-wide for her incredible artistic ability. She has had a very integral role, this year especially, with bringing art into the more public school sphere. "I came to Mrs. Bedore with this idea for integrating art more into Benet student life, so I made a new department of SALT called SALT Creation. My job is to integrate and encourage students of Benet to do something else instead of study all day, to provide opportunity to show art," said Grzesiak. So far, she has created posters for SALT and designed the front of this year's SALT T-shirt. This November, Grzesiak's collaboration with Villa St. Benedict, the assisted living center across Yackley Ave., has brought to fruition a student-run and student-featured art show. "Through an art show, it would be easy to showcase their talents. Villa St. Benedict already had a gallery system, which was a perfect place to do it."
Grzesaik put this idea into action by asking for submissions from the student body via email and received 22 submissions across all 4 grade levels. The submissions include a wide range of mediums, such as paint, photography, collage, pencil, watercolor, and acrylic, and they are currently being displayed in the VSB gallery, which is inside the main building that faces Benet. "The residents are really enjoying it. Some of them have said that it is their first time even going into the VSB gallery," added Grzesiak. The show will be on display for the entire month of November and will likely be taken down in the first week of December.
As for the future of SALT creation, Grzesiak is helping design some materials for the March for Life in Washington DC in January. She has no big projects currently in the works, but she hopes to create more art shows and incorporate Creation more into SALT. As for Grzesiak herself, she has intentions to go into art in college, but she is not yet sure where. Wherever she does end up, she is sure to be an innovative and driving artistic force, just as she has been here at Benet for these past few years.