Benet Academy's QuarkNet Team Views the Solar Eclipse Through the Eyes of Cosmic Rays
Benet Academy's QuarkNet group is investigating the effects of this Monday's solar eclipse on the relative rate of muons from cosmic ray showers.
Hang on for a minute...we're trying to find some more stories you might like.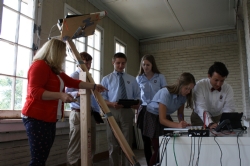 Very exciting events, invisible to the naked eye, happen within our universe every second of every day! From our sun, each second radiation is released as hundreds of millions of metric tons of hydrogen atoms fuse to form helium. Within our own galaxy, electromagnetic radiation and energetic particles traveling very close to the speed of light travel into our solar system and bombard the Earth's upper atmosphere. Collisions with atoms (like oxygen and nitrogen) in the Earth's upper atmosphere produce showers of lighter particles; one of whom is easily detectable: the muon.
Benet Academy's QuarkNet group: students James Austgen '18, Daniel Freeman '18, Andrew Marquardt '18, Quinlin McGrath '18, and Catherine Stoppelman '18 along with physics teacher Dr. Jennifer Gimmell, are investigating the effects of this Monday's solar eclipse on the relative rate of muons from cosmic ray showers.
To better understand their eclipse data, Benet's students will be studying the flux of cosmic ray muons over a period of several days leading up to and after the eclipse. This past week marked the beginning of the school year for Benet students, and also a time to set up the cosmic ray detector and make sure all components are working properly!
After Monday's eclipse, students will be using the data collected by their detector to measure the rates of cosmic rays both in the direction of the sun and as the moon moves in front of the sun. In our attempts to understand the origin of cosmic rays, if the sun were the main source of cosmic rays, we would then expect to see a significant rate drop zero during the eclipse. On the contrary, if, as we expect, the majority of cosmic rays originate from very high-energy events (such as exploding stars within our own galaxy), we may observe a small decrease in the cosmic ray rate close to the sun in the North-South direction.
No matter what results come from our cosmic ray study during the eclipse, they will certainly be interesting! To the best of our knowledge, results of the cosmic ray muon rate at the Earth's surface during a solar eclipse have not yet been published; the possibility that Benet Academy's students have the opportunity to publish a significant scientific result is exciting!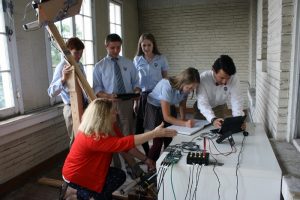 Benet Academy is part of a nationwide collaboration of US universities and only a handful of high schools up for the Eclipse 2017 challenge. This QuarkNet collaboration serves as an extension to past spring's International Muon Week, where Benet Academy was one of only thirty sites worldwide who gathered data to help answer the question: "Is the cosmic ray flux the same all over the world?"
QuarkNet is a world-wide science outreach collaboration, partially funded through grants by the National Science Foundation and the U.S. Department of Energy, Office of Science. More information about the QuarkNet partnership can be found at https://www.i2u2.org/elab/cosmic/home/project.jsp